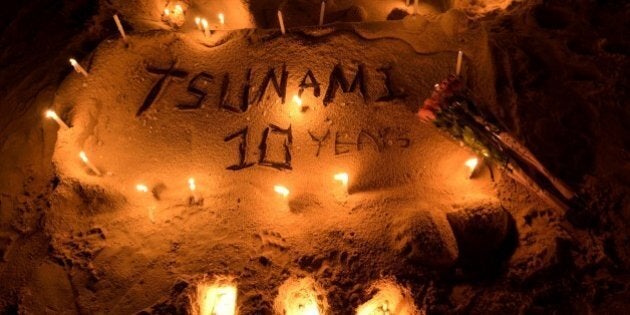 It's been 10 years since her life-and-death struggle, but tsunami survivor Christine Lang says it's still as fresh in her memory as the day it happened.
On Boxing Day, 2004, a 9.1 magnitude megathrust earthquake off the Indonesian coast sent a wall of water racing toward Thailand, Malaysia and Sri Lanka.
Lang was on the island of Ko Phi Phi, just south of Phuket, Thailand, shopping on Main Street with Rubina Wong, her brother's girlfriend, when suddenly everything changed.
"A Thai woman holding a bucket of water started screaming," she said. People started running inland. From where we were, we could not see the ocean. We could not see the beach so we had absolutely no idea what was going on. Nobody was saying run this way, come here, or it's a tsunami."
"I thought it was a terrorist attack because there was a horrific noise and it sounded to me like airplanes and I thought maybe the Island was being attacked, so I looked to the sky. It was perfectly clear, perfectly blue and sunny."
Lang said she and Rubina started running inland in the same direction as everyone else, when she noticed very shallow water racing into the island, but so strong and fast that she could no longer lift her feet to run.
Rubina had gone down a side street. Lang never saw her alive again.
"At that point I could no longer move and the next thing, I saw a massive black wall of water, not like a cresting wave, a black wall of water, maybe three to four stories high coming toward the island, she said.
"And then it just blasted me right off my feet, and I was tumbling in the wave. I didn't go up, I didn't go down. It was like being tossed in a massive washing machine with the entire contents of the island. I didn't have any sensation except for complete, utter fear."
Lang said she became trapped underwater between debris with the surface just above her face. The more she struggled, the tighter she was pinned.
"I could not reach the surface and I thought I was definitely going to die there and I thought, 'I came here on my Christmas vacation to die,' and then I got really angry and the next thing that happened was there was another wave, and it blasted me out of my trap between the debris," she said.
Lang said she was tossed in the wave, not knowing which way was up, or down.
Story continues below slideshow: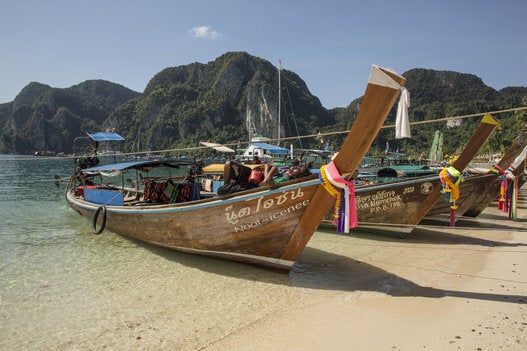 Thailand 10 Years After Devastating Indian Ocean Tsunami
"And my next memory, I was being torpedoed along the surface of the water and I thought, keep my arms close to my body, keep my legs tight together because I was being hit by random objects."
Lang said she must have blacked out because the next thing she remembers is waking up underwater.
"The water is now motionless and black, and I knew I was down deep because I could feel the pressure in my head and in my nose. So I looked up and from a distance, I want to say 40 or 50 metres, I could see at the top, there was a small circle of light streaming down," she said.
"And in an instant I started swimming through the motionless water, random objects again hitting me and I made it to the surface of the water."
"I took my first breath, was bashed down into the water again, got back up and pulled myself onto a floating door and I could see that the whole island was flooded and a lot of buildings were gone."
Lang said she could see a house not far away and a man on its roof.
"I made it my mission to climb over floating debris to the balcony of this house to refuge. There was a Thai man on the top of the roof and a Thai woman and he pulled me up onto the roof and from there I could see the one hotel on the island," she said.
Eventually Lang said she could see the water start to slowly drain back to the ocean and she started climbing over twisted debris and rooftops to the hotel where someone pulled her onto a balcony.
"There were lots of injured people there. Survivors helping survivors," she said. "They were pulling bodies into the first and second floors of the hotel. There were people with horrific injuries. There was blood everywhere. There was blood all over me."
Lang said she managed to make it to the rooftop of the hotel and get a first-hand look at the devastation.
"And it honestly seemed like it was the end of the world. I had no idea what was going on," she said. "What had happened to the rest of the world? What had happened to Phuket? What had happened everywhere else? We were completely cut off without power,.Everything was down."
Lang said she remembers every detail as if it just happened.
"The whole experience is very vivid," she said. "It's like a movie in my head. Your brain doesn't forget that. It doesn't seem like ten years at all."
Lang said she learned that day to never take life for granted.
"I was given an opportunity to save my own life," she said. I've had ten bonus years really. I feel like I could have died a hundred times over that day.
Lang's brother survived, but Rubina Wong did not. Wong's distinctive tatoos helped Lang's brother identify her body in Thailand.
When the numbers were in, and the counting was done, the earthquake and subsequent tsunami had killed more than 220,000 people in 14 countries.
Lang said she'll not return to Thailand on this, the 10th anniversary, to what she still remembers as a graveyard, but she will go down to the ocean in Vancouver today and pray for the souls of those who were lost.