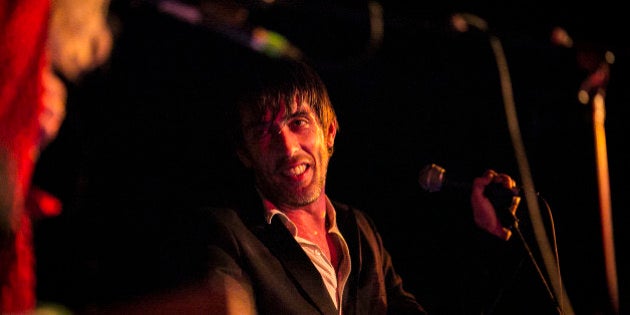 It might get harder to find them as you get older, but that actually makes discovering new bands even more special. So please meet Operators, the best new band of 2014.
Admittedly, the trio's primary player, Dan Boeckner, isn't new to music fans. In fact, Boeckner's early-00s breakthrough in Wolf Parade makes him an indie rock elder statesmen. But in the wake of the divorce-related demise of his criminally underrated duo Handsome Furs, Operators is both a comeback for his post-Springsteen songwriting and a progression into ecstatic electronic pop music following the Furs' edgy dance-rock fusion.
In the initial wake of the Furs unfurling, Boeckner had joined up with Spoon singer Britt Daniel and drummer Sam Brown to former indie supergroup Divine Fits, which he used to get his break-up songwriting out of his system. But that was a one-off and after they left the road Boeckner secretly put together a joyful new analogue dance act with Brown and Macedonian synth specialist Devojka.
Though Operators hadn't played out yet, the months spent writing and rehearsing paid off when the trio hit Canadian Music Week this past spring for a sweat-soaked three-night stand. The first show was so amazing I returned to see them again the next night. And the night after, too.
The only other band I saw multiple nights this year was Future Islands, the year's best old band (they landed our second-best song and fourth-best album) and the two acts toured together in the summer and are back on the road in January before Operators stage some solo dates and then join forces with New Pornographers.
Boeckner sat down with HuffPost Canada to talk about the pains of being pure in indie, why EDM fans won't dig Operators' electronic dance music and why we should respect pop music more and believe in the Internet less.
Is there a reason why you released the five-song "EP 1"? Most people just put out singles or an album. You have enough songs...
Yeah, we had 15 songs. But then we wanted to put something out [fast] and albums are strange. People to whom the album is important now are mostly in the critical field in music. As a format, the album is this weird diffused thing where people don't listen to track order anymore, just the real fans will listen to it song by song all the way down. So I thought it's a singles-economy, it's almost like the 50s now, and I've always liked short, digestible pieces of music.
You and me both, man. Nobody is really going deep inside 'Blood Sugar Sex Magik,' you know?
It would've been a really good 35 minute record. If it was the same length as "Mother's Milk.'"
Exactly, exactly. It's interesting because concurrent to that, independent music world [also] had these longer records. The Neutral Milk Hotel record isn't technically long but it's a statement record, you know? It's a connected piece of art. I love that record, but what that begat afterwards was that every record had to be a declaration of genius and had to be thematically linked and often they were very long. And I'm guilty of that, too. The second Wolf Parade record is a long listen. We did it because we could, because the format was there.
Robyn? The Robyn? Swedish Robyn? Oh wow. That was a big influence on us, the first Robyn record.
And she also released "Body Talk" as a series of EPs before being packaged together.
I thought it was amazing so cool, like it was like issues of a magazine, you know?
Maybe I'm biased because I love the new Operators stuff and Furs' "Face Control" is one of my all-time favourite records, but why do you think you're not bigger?
Because I've never been on a major label and I don't have those kinds of resources. I've never really put my toe in that water. I think if this band had a [major label] deal in the States, we would not have released an EP, we would still be waiting to put an album out and we would be tinkering with it. But once it came out, it would be on the radio because they need to make a return on their investment. I think that's all is.
If you listen to some of the stuff on the radio that's by, like, Rihanna, for instance...not great. It just gets played over and over again. It doesn't seem to matter whether people actually like it, it's like we'll force you to like this. She's done some stuff that's incredible, but once you're in that world, it's kind of a lock -- and I've never really been in that world before.
Yet we've been hearing since 2000s that major labels don't matter anymore, it's an indie world.
That's bullshit. They totally do.
There's this myopic idea that everybody has an iPhone, everyone has an iTunes account, and everyone has the resources to pull everything from everywhere so tons of kids in Wisconsin will be rocking out to Factory Floor, but that's not maybe the truth. The truth radio still exists and the way the radio markets is also filtered into the way things are marketed on the internet.
Stuff is just rammed down their throats. So the idea that it's an even playing field is not true. Lorde for instance, is on a giant major label in America. There's a reason why people know about Lorde and don't know about, say, Class Actress.
People always talk about how radio is like newspapers, an outdated medium, but seems like it's still need to reach that mass audience.
There is a sweet spot that I aspire to that. I think I got there with Wolf Parade. We'd get into New York and sell out two nights at Terminal 5. We'd play for seven thousand plus people in two days with zero radio play on commercial FM radio. The songs are too long and because we're on Sub Pop, they don't service commercial FM Radio.
And when Handsome Furs started taking off in Europe, with non-indie rock people are coming to these shows, there was dancing all of a sudden and Sub Pop just couldn't roll with it. They just didn't have the resources. They just want to talk to Rolling Stone and Spin magazine who of course are going to give everything they don't understand three and a half stars. .
How do you think this whole EDM rise, the melding of electronic and pop that's been happening over the last few years. How do you think that's going to affect the reception of Operators.
I don't think the EDM world is going to be interested in this band at all. There's a specific timbre and sound palette to modern, like, bro-step or whatever that we can't do because we don't use computers. We use old-school hardware stuff. So I think we're more in line with the dance stuff that's coming out of the UK like the new James Holden record or Todd Terje.
You came out of that early 2000s indie-rock scene, which was something of a reaction to 90s rave. So how did you get from there to here?
Well, the same week I bought that Guided By Voices record, I also bought Aphex Twin's "Selected Ambient Works II" and an Orb record, which is not great but you know I've listened the shit out of it.
I hung out with a bunch of people who were into like whacked out UK rave stuff and they would give me tapes. And I was a child in the 80s, so cold synthesizer stuff just really speaks to me. So the electronic thing has always been a part of what I like to do.
I was surprised, given the reason for the Furs break-up, that "True" is the first song on the record given its "one true love" chorus.
A funny thing happened when I moved to LA. I got stuck there. I was intending to come back to Montreal, but then there was nothing for me. My apartment was gone, everything was gone. I was in the middle of working on the Divine Fits record and I just threw myself into that and I think I purged. I have no intention of like revisiting those [post-divorce] feelings, you know? I got it out all on the Fits record and starting this band was a totally joyful process.
I don't really subscribe to the idea that you make your best when you're tortured. I made it through the Fits record and I love the songs and I'm proud of those songs but there was a real joy in starting this band and writing these songs, it's really liberating. I've written enough songs about being sad.
Will ever hear Furs music again?
I did have like three quarters of the next Handsome Furs record programmed out with drums, keys and stuff written, but I scrapped it after I got divorced and my band broke up because it just, it just needed to be put to bed.
So one day in the box set....
I don't know. I think it's good to bury stuff. There was a Wolf Parade record between "Apologies to the Queen Mary" that we actually played live and then abandoned when we started to working on "At Mount Zoomer." There's bootleg of the songs floating around and elements of them made it into "Zoomer." But I think it's good to put stuff away.
The record feels poppy, was that an intentional direction, or was that just what came out of the process.?
That's just what came out. I really try hard not to edit myself. I know a lot of people who do that when they write. You start second guessing yourself and you're like, "Should I do a minor key there? Is this chorus too pop-y?" And that's the kiss of death, I think, for songwriting.
If there is a joy in doing it and it makes you happy then you have to do that. Once you start calculating things, you're screwed. People can hear that. They can figure it out. And if they don't figure it out on the first record, they'll definitely figure it out by the second one.
Success is so unpredictable now. Future Islands, for instance, blew because a Letterman gig went viral.
This goes back to the thing that we're talking about about radio. It's all about accessibility. I remember turning down Letterman twice because of Wolf Parade. We came out of a scene that was rooted in Fugazi, and this sort of personal politics, and Letterman was untenable, you know? That stinks. It made absolutely no sense.
Because you grew up in the 90s, but those bands were selling millions of records.
Exactly, and they didn't have to worry about tour support because they were on majors, people were buying records and they were getting huge advances.
Not playing Letterman with Wolf Parade, the regret is that there are still kids living in towns where they're watching television. The idea that everybody is completely off what is considered mainstream media is wrong, I think that's a narrow view.
There's a difference between 'Internet-big' and IRL-big. It's an illusion. And then the idea that this [indie act] is cool and we're going to dump on all this stuff that's popular because it's not real art? Well, that stuff is actually popular. That is connecting with human beings, and what you're doing is connecting with a small group of people.