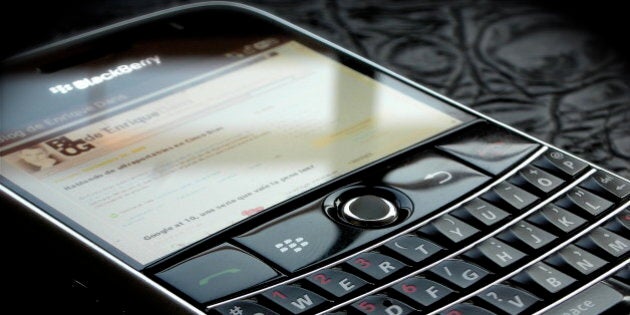 BlackBerrys are back in vogue — at least at Sony Pictures Entertainment. Executives dusted off the once-cutting edge smartphones following a well-publicized cyberattack, according to several reports.
Sony was forced to shut down its computer systems and landlines after hackers infiltrated their network. Staff reverted to using the old BlackBerrys, Gmail accounts and notepads. The payroll department even dug up old machines to issue physical cheques instead of using e-transfer to pay out salaries.
A group called the "Guardians of Peace" took credit for the Sony hack over the U.S. Thanksgiving weekend. Hackers stole internal data, exposing employees' private information and private company memos including humiliating and sometimes racist emails. The hack disrupted the release of Sony's movie "The Interview," a dark comedy about the assassination of North Korean leader Kim Jong-un. The FBI later concluded North Korea was responsible for the attack.
The company's high-profile switch to BlackBerrys could be good news for the struggling Canadian tech company, which has tried to remain relevant in competitive smartphone market by boasting of its superior data security and business-oriented technology. Its newest phone, the BlackBerry Classic, was released just before Christmas and includes BBM Protected, a secure, encrypted way to message others within a company.
The company has had a busy year, releasing several new phones that return to its roots with a physical keyboard and other distinguishing features and has strengthened its position as an enterprise security company.
PC Magazine speculated that the hack might serve as a wake-up call to companies about the importance of security and that might benefit BlackBerry.
BlackBerry Ltd. shares have been rising since it released the new Classic phone on Dec. 17 and hover around $11 apiece on the NASDAQ.
However its third-quarter results, reported Dec. 19, fell short of analysts' expectations. Revenue was $793 million for the three months ended Nov. 29. Analysts had predicted $900 million. It reported a net loss of $148 million that shrunk significantly from a loss of $4.4 billion in the year earlier period.