An endangered killer whale pod has welcomed a new member into its family, the Center for Whale Research confirmed Tuesday.
J16 gave birth to the calf, which has been named J50. Both belong to the endangered southern resident group called J-pod.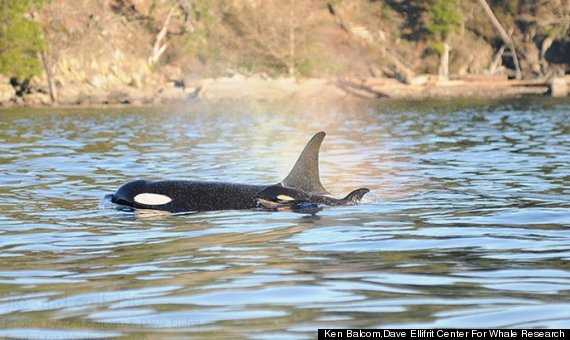 J16 seen with J50
The calf was spotted in the Gulf Islands off of Pender Island, the center's Ken Balcomb told CBC News.
"The calf was born sometime recently," he told the outlet. "We estimate a couple days, maybe a week."
J16, also known as Slick, is 42 years old, said Global News. J50 is her sixth known baby; three are still alive.
There are 77 resident orcas living in the J, K, and L-pods, according to the Times Colonist. Because calf mortality rate is so high, J50 has not yet been officially counted as number 78.
The birth is still positive news for the pod, which suffered the loss of J32, also known as Rhapsody, in early December. Rhapsody was pregnant at the time of her death; her body was found floating near Courtenay, B.C. Preliminary necropsy results released by the Center for Whale Research suggest she was starving and that her fetus might have already been dead for some time.
See the first photos of J50 and J16: