Alex Bilodeau may have hit the "Tweet" button a little too quickly when he posted a nude photo from the 2015 World Junior Hockey Championship on Monday.
The celebrated Olympic skier tweeted a photo from Team Canada's dressing room after it won gold, defeating Russia 5-4.
Bilodeau probably wasn't looking too closely at the picture's background when he posted it: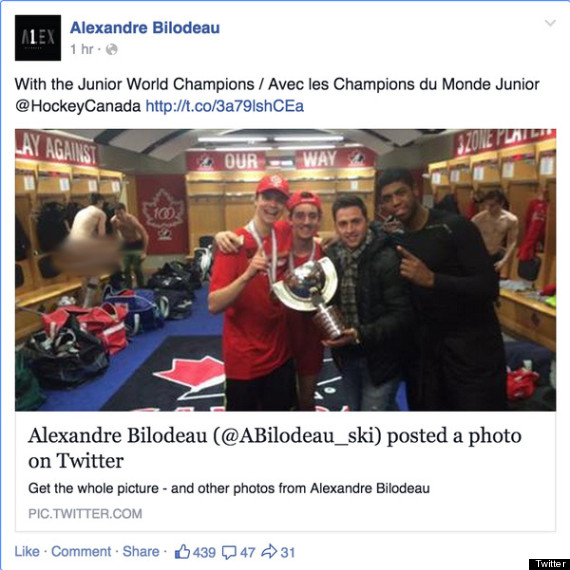 (Photo via Twitter user @KatiieLisee)
Standing in the background are two players in various states of undress, one of whom is pointing his derrière at the camera when it was taken.
Bilodeau's photo was also posted on his public Facebook account, but later taken down, according to Global News.
The Olympian later posted a cropped version of the photo that he called, "Take 2."
@ABilodeau_ski: With the Junior World Champions / Avec les Champions du Monde Junior @HockeyCanada (take2) pic.twitter.com/kqJE77Oy69

— Alexandre Bilodeau (@ABilodeau_ski) January 6, 2015
It's tough to decide who was more embarrassed here: Bilodeau, the naked player, or the Russian goalie who was pulled in the first few minutes of the game.
Like Us On Facebook

Follow Us On Twitter

ALSO ON HUFFPOST: