Laval Police have removed a photo from their social media accounts after some deemed it to be in poor taste.
The police force deleted a Dec. 31 photo of six police officers wearing riot gear and holding up a sign that read "#Joyeux Fêtes Laval" from its official Twitter and Facebook accounts, according to the Montreal Gazette.
The photo was a screencap from a 2013 video featuring several of its staff wishing the public happy holidays. You can find the image below at the 1:59 mark.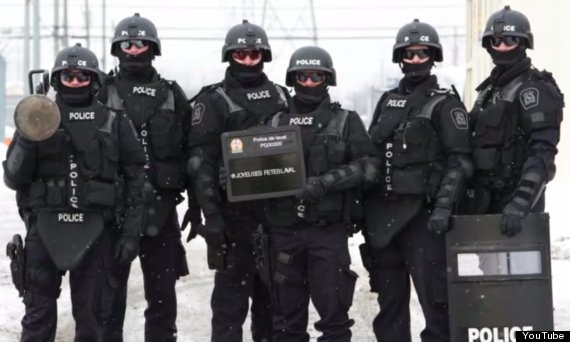 While the video is a year old, re-posting the image generated a lot of conversation on Reddit, with one commenter saying it showed a lack of tact.
The protective black uniforms are now a familiar image as riot control becomes a "high priority" among forces in Canada, according to the Canadian Association of Chiefs of Police.
But alleged police brutality during protests like those that sprung up after the death of unarmed black teen Michael Brown in Ferguson, Miss. last summer and during the 2010 G20 summit in Toronto has fueled growing concerns about police militarization and excessive force.
Laval Police responded to one Twitter user who called the photo "not very festive" by directing them to the full video. She responded by suggesting they include the video link in the tweet to put the image in context.
On Jan. 1, the force tweeted a link to the original video.
Spokesman Lt. Sylvain Laurent told the Gazette the force's social media managers couldn't be reached for an interview.
"I can't tell you why it was removed, what the reasons were. I don't know," he said. "I'm not a fanatic of social networks so I can't tell you more about what's on our Facebook page than what's in the papers."
ALSO ON HUFFPOST
Top Corporate Social Media Fails