For brides-to-be everywhere, TLC's "Say Yes to the Dress" has been a staple TV series to gorge on bridezilla drama, in-law cat-fighting, wedding gown bling (hello, Pnina Tornai!) and of course, Randy Fenoli's patient advice.
Now (finally), Canuck brides are getting their chance to "Say yes" in the new TV series "Say Yes to the Dress Canada." This time, brides won't be shopping for their dream dress at New York City's Kleinfeld but at Amanda-Lina's Sposa Boutique—a Canadian institution in the bridal market, located in Woodbridge, just outside of Toronto.
HuffPost Canada Style visited the set of "Say Yes to the Dress Canada," where we chatted with the Canuck Randy—bridal stylist Joseph Spencer—about everything from the difference between American and Canadian brides, mothers who want to impress their exes, tips on finding the perfect gown and the wackiest brides he's ever seen.
"Say Yes to the Dress Canada" premieres on W Network on Wednesday, January 7 with back-to-back episodes at 10 p.m. and 10:30 p.m. ET/PT.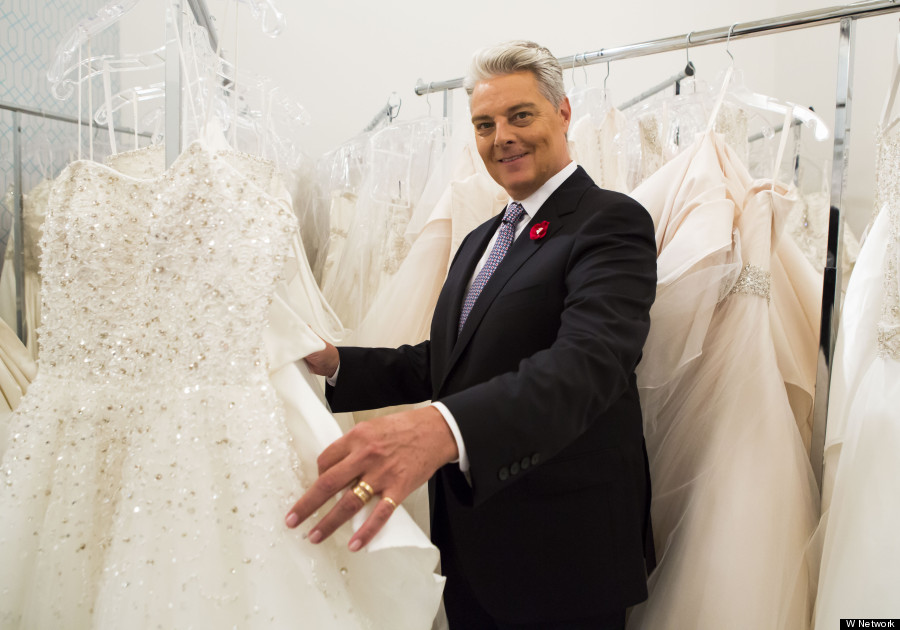 HuffPost Canada Style: What kind of trends are brides clamouring for these days?
Joseph Spencer: The most basic gown is your fit and flare, that's for everyone's body, it doesn't matter if you're a two or a 22. A lot of Canadians think that they can get a gown for under $1000 and that's fine but the only thing is if you put a little bit more into it, you'll get a better fit on the gown.
The fashion end [of gowns] is more off-the-shoulder and drop sleeves this year. The sweetheart is always beautiful, the illusion is very big with the material on the back looking like it's see-through. You have to have a great body for that.
What I do best is try to give [brides] the best I can give them for their body and make them feel the way that they should feel when they turn around and take a look in the mirror. Because for me, it's not about the gown, it's about you and how you feel in it.
People are wearing Uggs, running shoes, cowboy boots that look like they should have been left on the farm, and I don't agree with everything...but don't give me those torn and worn boots that look like you've worn them for five years. Sometimes you have to turn away and go 'wow, that's really what they want' but it's quite frustrating.
What are some techniques you use to deal with difficult brides?
You always will have somebody who has something in mind that they really want and it's not available to them or it's not suited to them and you have to hear the ins and outs of everything and try to explain why we're saying this—we want you to see the difference. So what we would do is say 'Ok fine, let her try on the things she wants' but when you're seeing her you get a vision of what I can see on her, and hopefully in the few gowns that she tries on we bring in that piece and it's a magical thing when they see it and they may not expect it.
I always make eye contact and I have to see that; I have to see your eyes before anything and that gives me an idea of how you're feeling, if you're liking it. It's one of those magical things when she turns around in that mirror—it's there or it's not, and you can't make it happen.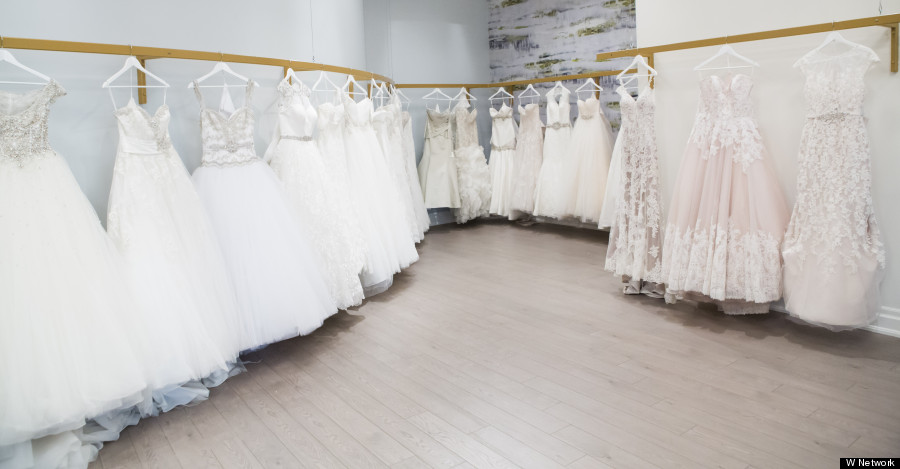 What kind of advice would you give to brides who are going wedding dress shopping for the first time?
My suggestion would be they really should put up their dollar. I'm finding from this program that a lot of people want to spend $1000. Well, you can get a gown but I really think Canadians, they're underestimating themselves, they should be spending around $1500 to around $2500 unless it's really under-budget and you're really fit for money.
Think about a couple of styles, so I would tell them always to go try a few pieces on before you actually come in for that day, like at a trunk show. That day you're overwhelmed, you have your mom, mother-in-law, friends, whatever and they all have their looks that they want you to be in, and you get seven people giving their opinion, and the bride is standing there saying 'I want to satisfy seven people and I'm having a difficult time because they're confusing' or they're putting ideas in her head. So it's all about listening, but for the bride it's her final decision.
A lot of young girls are wearing Uggs. How do you get a posture walking in a gown with Uggs on? For God's sake it's just not right. So you need a little bit of a heel whether it's just a quarter inch or a half inch, or one inch, two inch, but that gives you a structure, it gives you better arching of your shoulders, head, neck and that's most important.
Is there a difference between Canadian and American brides?
It's more so the dollar than anything. Americans have more money or I don't know, their budget is usually between $3000 and $15,000. And if you're in Vegas and they've had the boobs done, the lips done, it doesn't matter. They want the best of the best.
Sometimes you get the brides who've had their boobs done and they want to show everything. I've had mothers come in who had their boobs done and their ex is going to the wedding and they're going 'I want to show him everything I've got.' And I'm going 'Are you kidding me? This is your daughter's wedding! And you want them hanging out? Do you know what the pictures are going to look like? People aren't going to be looking at your daughter, they're going to be looking at your cleave.'
Have you seen a lot of drama on the show?
Oh, there's drama in everything. Mothers that won't even agree with the bride ever, it's like she's getting married, not the bride. Brothers too, the same thing, some people can be very cruel to their siblings. But on the whole, everyone is loving. Princesses that come out you'd think that their carriage was outside waiting to carry them. But that's the whole excitement of this, I find, is that you have such a variety of life and nationalities and dollar wise and family and it's all about that and trying to make it for them what is perfect, and that's what we do.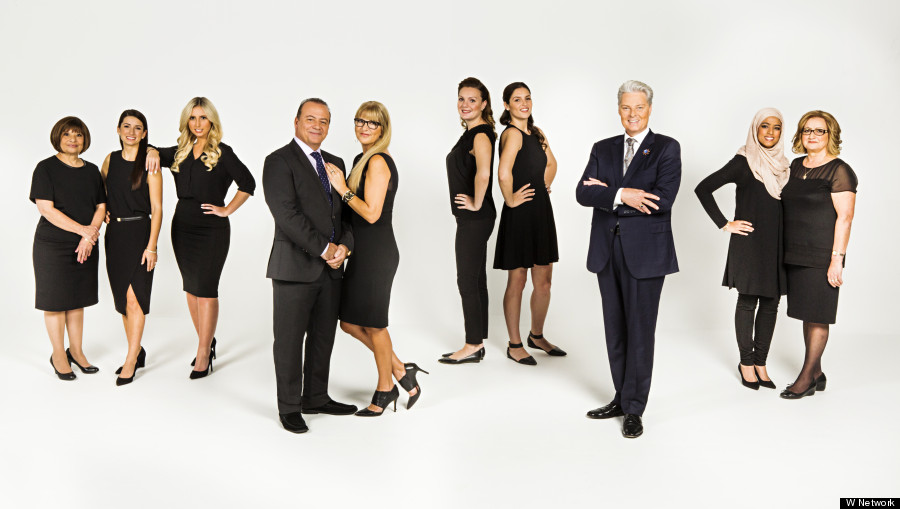 Have you cried?
Oh, many times! When families come in with their grandma and they don't know if they're going to be there for the wedding in a year and she's been sick, I mean we cry, I do. Because the emotions are just too real. So of course you're feeling it cause you're right there, you're part of the family. And when that bride comes up and wow she's got the perfect dress on and the family's crying and she's crying, you have to cry! You just have feelings!
What's one of the weirdest requests you've had?
There was a bride who was on a Sea-Doo and then she was going to get on one of those kites after with the gown but that was a destination wedding and that's what it's all about.
We've had brides getting married in the next month, so we had to get them gowns off the floor. We've had 'Omg we got engaged I want to get married tomorrow' and these things happen. Some people wait two years but I think that's too far, things happen with your body in two years. This customer was pregnant, so she was going to have the baby and then she was going to get into her wedding gown, and she was very small and it's so hard to say 'You should wait because your body is going to change, you may go up a size or two, you may drop, who knows' but that would be too much of a change of a gown.
Also on HuffPost