Popular "Banksy" social media accounts shared an image of sorrow and hope Wednesday after an attack on the Paris office of the satirical newspaper Charlie Hebdo left 12 people dead.
UPDATE: The drawing has been identified as being by French illustrator Lucille Clerc. The @Banksy Instagram account now credits Clerc after initially posting the picture without attribution.
The drawing was shared from an Instagram account and Facebook page with a combined following of nearly five million people.
Both posts carried only the message "RIP".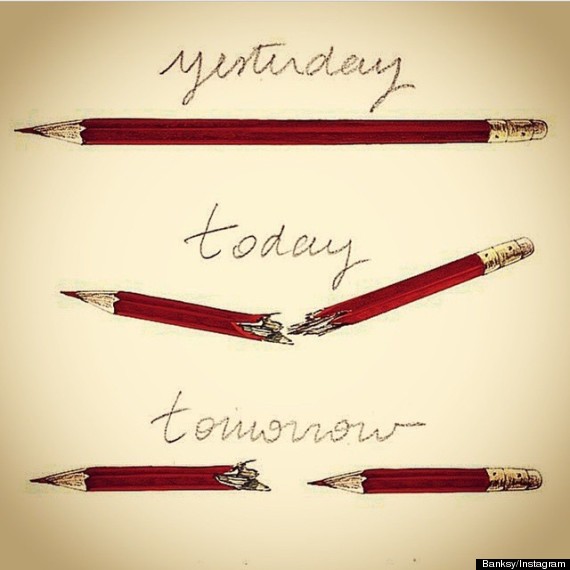 The image quickly went viral, but many have since expressed skepticism about whether Banksy is really behind the image.
The page the drawing was shared from was initially verified by Facebook, but that verification was removed in early 2014. Banksy's publicist Jo Brooks told Animal New York that the page is "100 per cent fake" and the artist's website says Banksy is "not on Facebook and has never used Twitter."
Some have speculated, however, that the denials are all part of cultivating Banksy's puzzling persona.
The Guardian and Mashable both identified the Instagram post as being authentic, but Mashable later updated its story to reflect doubts about the image's provenance.
Business Insider points out that @Banksy Instagram account shares work by other artists, often without attribution. In 2013, The New York Times identified a different Instagram account as being linked to the artist.
Many users on Twitter noticed that similar pictures by different artists were shared before the "Banksy" posts.
Tuez un dessinateur, vous en créerez deux.

#CharlieHebdo#JeSuisCharliepic.twitter.com/tqrTQKl74E

— Max ✏️ Haes (@MaximeHaes) January 7, 2015
Perhaps the best #JeSuisCharlie cartoon yet... pic.twitter.com/KprI1vRQco

— Andrew Bloch (@AndrewBloch) January 7, 2015
If that really is a Banksy offering, then he has nabbed the idea wholesale from a cartoon I saw earlier this afternoon. Just THIEVED it.

— Aaron Abernethy (@theronster) January 8, 2015
Regardless of whether the real Banksy is behind the drawing, there's no denying it's a powerful image.
Related on HuffPost: