MECKY via Getty Images
Economists liken falling gas prices to "an instant tax cut," and if gas prices stay as low as they are, that "tax cut" will amount to $20 billion over the course of a year.
That's according to BMO economist Sal Guatieri, who calculated in a client note Friday that gas prices have fallen by 48 cents per litre, on average, for Canadian consumers.
"That's about $1,500 per family, or almost enough for three Timmy's coffees per day for a year," Guatieri wrote.
Gas and oil prices are falling so quickly that just last week an estimate pegged the savings to consumers at $12 billion.
The latest numbers from TomorrowsGasPriceToday.com show gas prices below 80 cents a litre in many parts of the Prairies, including Winnpeg, Calgary and Edmonton, where gas prices were barely above 72 cents Friday.
Check out GasBuddy'com's latest heat map of Canadian gas prices. The Prairies, as is common, have the lowest gas prices and the North has the highest. Some parts of Alberta are seeing prices below 80 cents per litre.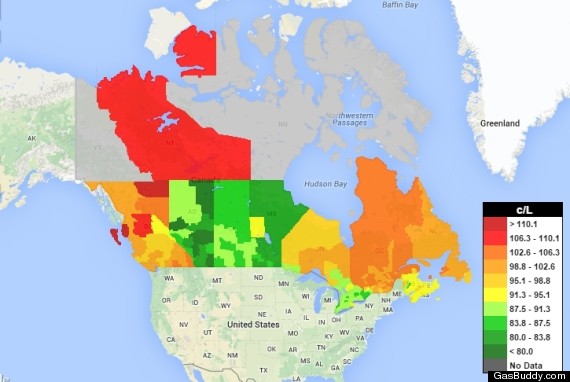 Of course the downside to those gas prices is a weakening energy sector. Energy research firm Wood Mackenzie estimated last week that nearly $60 billion-worth of Canadian oil investments are at risk at current prices.
And government balance sheets are also endangered. The federal government faces the prospect of a return to deficit just ahead of the schedule election this October. And Alberta Premier Jim Prentice has already announced the province's projected $1.5-billion surplus for this year will be a $500-million deficit instead.
So enjoy those low gas prices -- they may have a nasty downside.