JP Yim via Getty Images
Engagement season is in full swing, meaning that brides will be making a list (and checking it twice) of all the bridal salons they're going to be visiting to find their dream dress.
And who better to guide them than Kleinfeld Hudson's Bay's PR and marketing guru, Jessica Mulroney? The style expert—who can be found alternatively attending the hottest bridal fashion shows and showcasing her sartorial savvy at posh soirées—chatted with HuffPost Canada Style about the biggest spring bridal trends of 2015, the importance of lingerie and tips for finding the perfect wedding dress.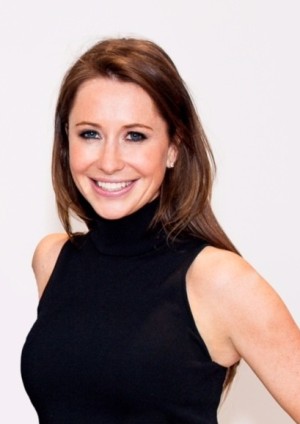 Mulroney will be at the WedLuxe Wedding Show taking place in Toronto on Sunday, January 11, where she will no doubt be mobbed by advice-seeking brides, but for those who can't make the show, read on to get some tips and tricks from the wedding gown authority.
HuffPost Canada: What are the spring bridal trends that brides can expect to see this year?
Jessica Mulroney: One of the things that really caught my eye at Bridal Market was the sexy dress—the more risqué the better. That is something we saw predominantly walk down the runway whether it was cut-outs or really deep v-necklines, really high slits, low backs—this was everywhere. So lots of sexiness and then something else that was really nice, which is going back to more of a traditional bridal trend, is the tulle skirt. I think Olivia Palermo did it really well with her skirt and shirt, so whether it's a one piece dress or a skirt and a top, lots of tulle is coming back.
Another thing that I noticed is different collared necklines, whether it's a turtle high neck or a structured collared neck. This year in terms of colour we saw greys and lots of mint green so that was really interesting.
Another trend is lots of glitz and glam, lots of sparkle. I saw a lot of dresses that could easily be kind of confused as red carpet gowns because they were very embellished. Badgley Mischka did a nod to '30s red carpet beauty and a "Great Gatsby" kind of look like flutter sleeves and lots of embellishments. In terms of actual embellishments on the gowns there were lots of floral embellishments and floral 3D embellishments.
One of the biggest trends that I saw and I think will be really huge for a few years to come is the transformer dress, which is one dress with a big skirt that can be removed and turned into a party dress. So [wedding dress designer] Pnina Tornai did it with her new collection, which was so fantasy and amazing and she did removable skirts. There's so many brides out there who don't want to commit to one dress, who want a traditional look at the beginning and then go into their party look.
Story continues below the slideshow:
What are some dress trends brides should leave behind?
There's always going to be the traditional bride and there's always going to be the bride who wants to push the limit, and I think that whatever a bride really wants to wear is what they should wear. Unlike runway fashion, I think that there's the element of tradition that we can't take away from a wedding. I think that it's really hard to name a trend that should go away because every bride should be able to wear what they want on their wedding day without any kind of judgement.
What kind of advice would you give to brides who are just starting off the hunt for their wedding dress?
I think that now [brides] are so spoiled for choice and style. There's so much out there that you should really try to nail down the look that you want before you go shopping, because you can go absolutely nuts. And also be a bit open minded and try on all the different kinds of styles even though you're pretty sure you won't want, let's say, a princess gown or a fit and flare. Just try the unexpected dress because one thing that we all know is that brides can second guess themselves at any point.
I say also to do as much research as you can to the different looks that are out there because you don't want to be caught six months later and you haven't done the research and you haven't looked at all the different options, so you don't want to be stuck six months later and find the dress of your dreams.
Do you have any favourite celebrity wedding dresses that would work for spring and summer?
I really loved Olivia Palermo's dress. I loved that big tulle skirt with that relaxed shirt. I think the relaxed bride in pictures always looks so easy and so well put together and I always really appreciate not trying to hard; that kind of look to me is always ideal.
Amal [Clooney] was beautiful; the traditional wedding dress that wasn't over-the-top. That off-the-shoulder neckline is huge for 2015 because of her, like Duchess Kate had the long sleeves, that neckline is going to be so big and will continue to be huge for 2015 and that's such an elegant and beautiful neckline for so many different body shapes so I think that was a beautiful choice. I can't wait to see what Cameron Diaz wore.
What were some of your favourite collections at Bridal Market?
I am always a huge fan of Naeem Khan: he does such a different kind of look when it comes to bridal and there's something that what he does is so intricate and beautiful and sexy at the same time so he never fails to please me. When it comes to other designers, Reem Acra this season was just killer—the right amount of sexy, the right amount of cool, the right amount of beautiful—it was just executed perfectly.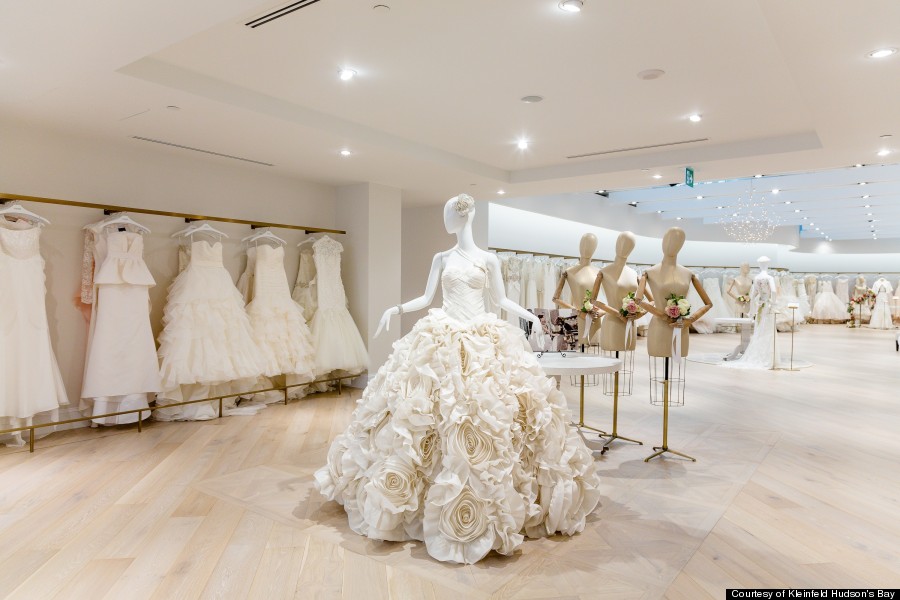 What are some cool accessories brides can wear?
The understated accessory is always a winner, you can never go wrong with that. We saw a lot of ear cuffs; they were so big with bridal. Another thing that was huge is the veil. The veil is back! So for a while a lot of brides were opting to not wear one or wear the headband but now the veil is back 100 per cent whether it's a shorter one or a longer veil, dramatic or not, its back for sure. I think that's probably due to Angelina [Jolie], with her dramatic veil designed by her children. We saw a lot of patterns on the veil [at Bridal Market] so that could be because of her. There were personal messages on the veils like family crests or initials, things like that I bet we're going to start seeing a lot of: veils being more customized with different personal notes will be huge, that's my prediction.
What kind of lingerie should women wear on their wedding day?
Whether you're thin or not, I always think a great idea is some kind of underwear that's a little bit higher waisted that puts you all together. It's always a good idea under dresses to have that perfect shape, so shapewear is a great option and there's some beautiful shapewear out there now like La Perla, who is making some really interesting underwear—it's not your grandmother's underwear. I think women shouldn't be afraid to wear shapewear on their wedding day because they think it's not sexy or they think they can't wear it after the wedding, but that whole concept has completely changed.
Depending on the neckline of your dress, you should know what shape of bra to wear, whether strapless or whatever. I think you have to keep your body type in mind when you're shopping for your dress. We have so many illusion backs and so many kinds of backless dresses, you have to really be aware of that and what your shape will look like with that, so there are not a lot of options of bras that work really well with a backless dress, so you have to be really aware of your body type. If you need to wear a bra on a daily basis, that's not going to change on your wedding day.
What are some popular dress requests that you get at Kleinfeld Hudson's Bay?
Whatever the big trends are, we always get asked, like the backless thing is just huge. The bride is now looking to be sexier than she ever was and that is definitely the backless dress, which is one of our most popular demands at this point.
The traditional sweetheart dress with the ballgown skirt or the fit and flare dress, that's still what most girls want, so we like to see the interesting trends come out and there will always be that daring bride but at the end of the day, the traditional looks always win.
Is the Kate Middleton wedding dress still popular or is that kind of look out of style?
The long sleeve is still huge, actually. There are still a lot of brides that want that long sleeve and actually right now for winter weddings in Canada, sleeves are always a great option for our brutally cold winters. It's a lasting trend that I don't think will go away for a while.