Looking to keep up with the Golden Globes water-cooler conversation at work or online? Never fear. There's plenty of room for hot takes on the night's biggest moments from the winners and beyond.
Yes, three-time hosts Amy Poehler and Tina Fey "went there" by tackling North Korea, the Bill Cosby sex scandal and George Clooney's lapsed bachelorhood, but there were plenty of other breakouts to remember at Hollywood's favourite party.
Here are the moments, quotes and GIFs you may have missed while catching up with the show on your PVR:
When Margaret Cho's North Korean leader character showed up and immediately singled out Meryl Streep
"In North Korea, we know how to put on a show! You no have 1000-lb. baby playing guitar." -- Margaret Cho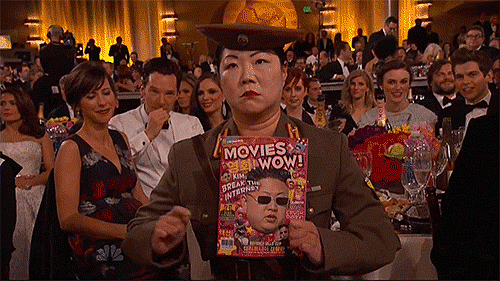 When George Clooney expressed his love for his new wife, Amal
"Listen: It's a humbling thing when you find someone to love -- even better when you've been waiting your whole life. And when your whole life is 53 years, Amal, whatever alchemy it is that brought us together, I couldn't be more proud to be your husband." -- George Clooney
When George Clooney expressed his love for his fellow actors
"If you're in the room, you've grabbed the brass ring. You are all winners." -- George Clooney
When Common and John Legend won Best Original Song for a Motion Picture for "Glory" from "Selma"
"I am the unarmed black kid, who maybe needed a hand, but instead was given a bullet. Now's the time to change the world. Selma is now." -- Common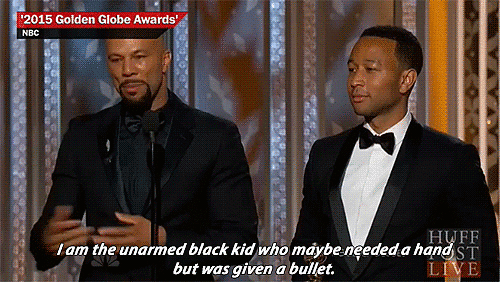 When Oprah Winfrey and Chrissy Teigen reacted to the "Glory" win like this: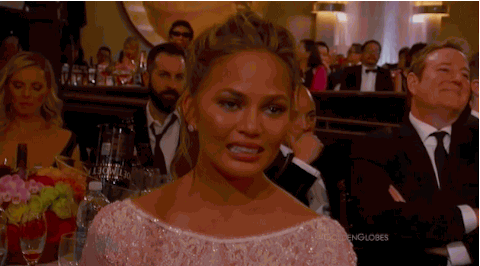 When Tina Fey and Amy Poehler went for the Cosby jokes
When Tina Fey and Amy Poehler took a shot at George Clooney's resume
I love George Clooney, I love Tina and Amy, and I especially love this mention of Amal Clooney's accomplishments!! pic.twitter.com/6jJ54UhpUZ

— Katie Chang (@KatieChang53) January 12, 2015
When newcomer Gina Rodriguez won Best Actress in a TV - Comedy for "Jane the Virgin"
"This award is so much more than myself. It represents a culture that wants to be seen as heroes." -- Gina Rodriguez
"My father used to tell me to say every morning, 'Today's going to be a great day, and I can, and I will,'" she said. "Well, daddy, today is a great day. I can, and I did." -- Gina Rodriguez
When Amazon's original series "Transparent" won Best TV Series - Comedy and Best Actor in a TV - Comedy for Jeffrey Tambor
"This award is dedicated to the memory of Leelah Alcorn and too many trans people who die too young." —'Transparent' Creator Jill Soloway
"Thank you for your courage, thank you for your inspiration, thank you for your patience, and thank you for letting us be part of the change." -- Jeffrey Tambor to the trans community
When Jared Leto showed his support for #JeSuisCharlie
"Je suis Charlie." -- Jared Leto
When Patricia Arquette fan-girled over Meryl Streep after the two shared a hug
"I hope some of your DNA transferred to me." -- Patricia Arquette.
When the all-mighty "Cumberbomb" hit new highs
When Maggie Gyllenhaal spoke out about the roles for women in Hollywood
"I've noticed a lot of people talking about the wealth of roles for powerful women in television lately. And when I look around the room at the women here and I think about the performances that I've watched this year, what I see actually are women who are sometimes powerful and sometimes not. Sometimes sexy and sometimes not. Sometimes honourable and sometimes not. And what I think is new is the wealth of roles for actual women in television and in film. That's what I think is revolutionary and evolutionary and it's what turning me on." -- Maggie Gyllenhaal
When Michael Keaton proved he was more than Batman
"Sorry. Shoot. Two things I said I wasn't going to do: cry and give air quotes. Never whine, ever. Never complain." - Michael Keaton
When Jeremy Renner made us cringe
When Kevin Spacey showed why Frank Underwood is unstoppable
"I just want to be better. I just want to be better. But this is very encouraging." -- Kevin Spacey
When Billy Bob Thornton got cheeky, and kept it short
"These days you can get in trouble for saying anything in the world ... so I'm just gonna say thank you" -- Billy Bob Thornton
When "Downton Abbey"s Joanne Froggatt spoke out about #YesAllWomen
"After this storyline aired, I received a small number of letters from survivors of rape, and one woman summed up the thoughts of many by saying she wasn't sure why she'd written but she'd just felt in some ways she wanted to be heard. And I'd just like to say, I heard you, and I hope saying this so publicly means in some way you feel the world hears you." — Joanne Froggatt
When Amy Poehler got a hint that the show was almost running over time
"Ladies and gentlemen, when your producers tell you you're running long, you can only do one thing… Matthew McConaughey!" -- Amy Poehler
When Kristen Wiig and Bill Hader made us laugh (over... and over)
When Eddie Redmayne showed he's just like us
"I've spent the entire evening trying not to lech over actors I've always admired… Robert DuVall, I'm sorry." - Eddie Redmayne
When Meryl Streep had the last word
"I just want to say how much are we going to miss Amy and Tina? My G-d." -- Meryl Streep
But not for long.
ALSO ON HUFFPOST: