Colliers International
The potential buyer of Metro Vancouver's largest boarding school could help meet the growing demand for private education in the region.
Listed for $33.8 million by Colliers International, the former Canadian International College in North Vancouver sits on a 6.5-acre property and includes four large dormitories big enough for 350 students, classrooms, a tennis court, cafeteria, and gymnasium.
"Typically, a lot such as this one would be purchased with the intention to retrofit or reconstruct, but this building is still so new that it can be bought and utilized as-is," said David Taylor, associate vice-president at Colliers International, in an email to The Huffington Post B.C.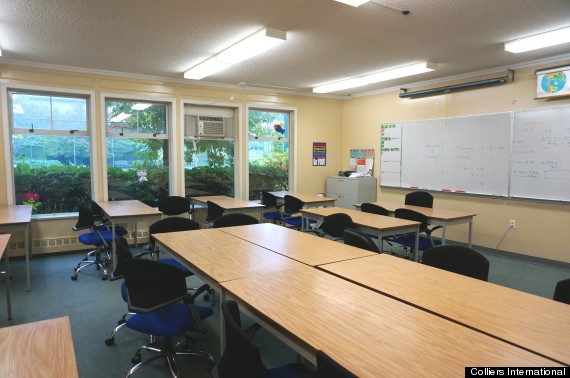 Built in phases from 1988 to 1990 by a Japanese businessman, the Canadian International College met the demand at the time for private education for teenage students from Asia. After about a decade of success, the owner sold the school to a group of investors.
A Korean immersion school leased the Dollarton Highway property from 2007 to the summer of 2014. At that point, instead of looking for a new tenant, the investors decided to list the property.
Taylor said there's been "incredible interest" from both local schools looking to grow and international private school operators. He anticipated a school opening at the site within the year.
Interest in Metro Vancouver private schools is steadily increasing, but most institutions are already limited by space.
St. George's School in Vancouver, one of Canada's most expensive boys' private schools, is trying to raise $40 million for an expansion, while B.C. saw its biggest single jump in private school enrolment in 2013.
See photos of the boarding school property for sale: