"Gay not GMO."
"Gender modified not genetically modified."
"Fag fresh."
Displayed at pride parades in Victoria, B.C., these slogans represent an often under-represented or altogether ignored group: queer farmers.
Alone, they are agriculture workers who identify on the LGBQT (lesbian, gay, bisexual, queer, and transgender/transsexual) spectrum. Together, they are the Rainbow Chard Collective, a group designed to make queer farmers feel safe and supported in an industry that can be homophobic.
"The agricultural movement was based on the foundation of a family being a man and a woman and children," founding member Mel Sylvestre told The Huffington Post B.C.
"We came to the feeling that this foundation of agriculture was not really applying to us anymore and we had different versions of what a family farm could look like. So that was the first thing that brought us together."
Sylvestre, a full-time farmer at UBC, helped create the collective on Vancouver Island back in the mid-2000s. It's more about "the idea of being a queer farmer than the farming itself," she said.
Story continues below slideshow:
Sylvestre was living on Vancouver Island at the time, having moved to the Saanich area from Quebec. She and her farm colleagues recognized they were lucky because they could be openly queer without much judgement, but not everyone across Canada had it as good.
"We thought there was a need to create a support network for those people who were not as privileged as us, to say, 'Hey you're not alone,'" she explained.
The Collective is an inclusive, casual space. They usually come together for one or two projects a year, such as a pride parade or a calendar. (Really, they made a calendar. Participants posed in the nude with produce and farm tools playfully covering their parts. It was such a hit that they've now made more than one.)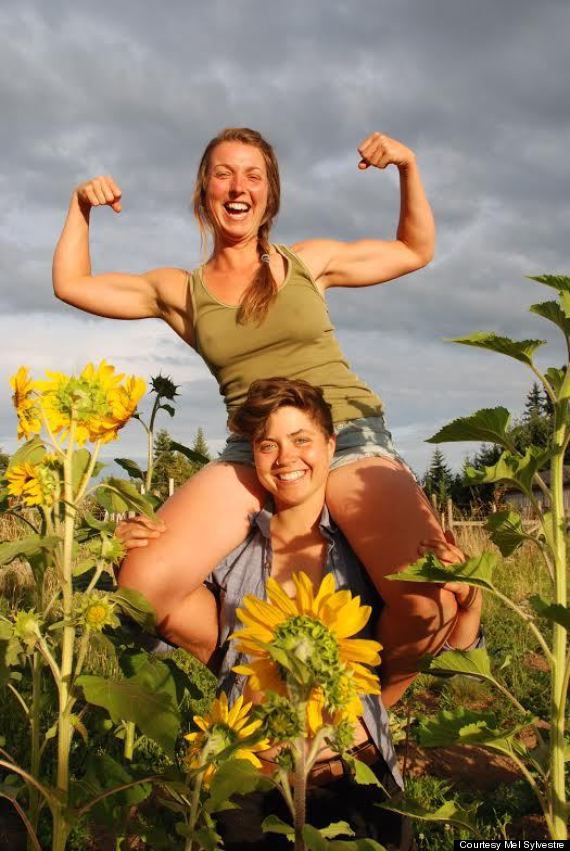 These initiatives create a support system for a community often conflicted about the relationship between their sexuality and their profession.
"It's not easy being a queer and a farmer," Rainbow Chard participant Larkin Schmiedl wrote for This Magazine in 2014.
"Farming collectives like Rainbow Chard, where queer farmers can be themselves and flourish, are sadly rare. Too often queers have to choose between their deep-seated desires to be on land and a community that accepts and understands their sexualities and genders."
Sylvestre said the collective mostly just tries to be present in the community and "talk about reality of being queer on a farm." Since forming on Vancouver Island, they have made contacts in other provinces and even the U.S. — a testament to the impact they're making.
After all, it's a group formed on inclusivity.
"We don't own the Rainbow Chard title," said Sylvestre. "Anybody that wants to be part of it can carry the name."