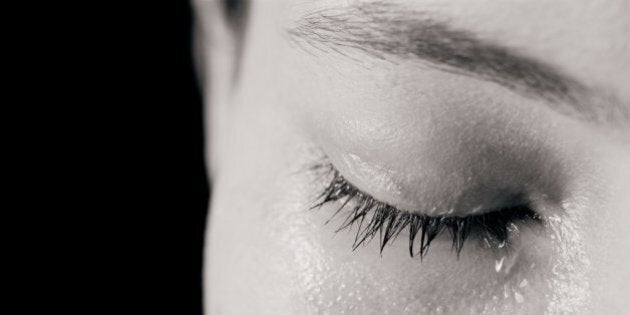 Bill Cosby may think he can laugh off allegations of sexual assault, but Hollywood won't let him off so easily.
At his comedy show in London last Thursday, Cosby joked about his sexual assault accusations saying, "You have to be careful about drinking around me." The audience responded first with gasps, but it quickly turned to cheers and laughter, according to tweets from the audience.
Joanne Froggatt, who won Best Supporting Actress as Anna Bates, a rape victim, for "Downton Abbey," also addressed the issue in her acceptance speech. "I've received many letters from survivors of rape, and one told me she wasn't sure why she'd written, but she just wanted to be heard," she said. "I heard you. And I hope saying this so publicly means in some way you feel the world hears you".
"There is just not enough emotional intelligence and awareness," says Crystal Castelino, program director of Abuse: Survival Stories, a program offering group therapy and an event series for survivors to help them heal after abuse. "Our society hasn't put enough importance on that."
Our readers agree. The Huffington Post Canada asked for your feedback shortly after Ghomeshi was accused and the hashtag #BeenRapedNeverReported became a global phenomenon. Readers shared their own experiences and some of the damaging responses from others that victims of sexual violence face. Castelino offers alternative ways to respond that support, rather than condemn.
A Lack Of Understanding By Professionals
"Doctors did not know how to best support me, couldn't assist me in obtaining psychological help and often found themselves trying to refer me to another doctor. On a particularly bad night, I found myself in the ER after a suicide attempt and overheard ER doctors laughing about some of my symptoms and debating who would be "stuck" with me: I left without medical treatment and never again sought medical help."
— A reader in Halifax, N.S.
— A reader in Kingston, Ont.
Situations like these are dangerous for people trying to heal after a sexual attack, says Castelino. Right now, there's a focus on the information needed from the victim rather than their emotional needs. No one is available to walk a victim through the process of reporting a sexual attack, but it's something Castelino says needs to change. Professionals should be trained to give emotional support to survivors if they hope to help them medically or bring their abuser to justice.
Victim Blaming Through Reasoning
— A reader in Vancouver, B.C.
"The 50-something male policeman told me it was my fault because I was hitchhiking at night and I wasn't wearing underwear."
— A reader in Hamilton, Ont.
Blaming the victim for their rape is detrimental to their recovery, says Castelino. "If someone steals a chocolate bar, do you blame the chocolate bar for being so delicious?" she asks. The perpetrator of rape is responsible for their own behaviour, no matter what someone else was wearing, their state of intoxication, or their situation at home. Instead, survivors need to be listened to and believed, says Castelino. "You feel so alone and helpless," but when you're listened to, "you feel all the support in the world."
A Reluctance To Get Involved
— A reader in Vancouver, B.C.
It's a well-known belief that yelling "fire" instead of "rape" or "help" will draw a crowd if a person is attacked. "Most people are concerned with their own lives," says Castelino, which is why they are more likely to respond to "fire" rather than "help." Education is needed to bring attention to these victims, she says, no matter what they yell. Until people are more educated about how to respond to rape, yelling "fire" is still the best response, says Castelino.
Telling The Victim To 'Get Over It'
"I did tell, I did report... but was told to move on with my life, and not look back as this was going to hurt my family, my children, it would no longer be private."
— A reader in Canning, N.S.
Here again the victim will feel they deserved to be raped, says Castelino. "This is detrimental because it impacts their sense of self-worth" she says. "They don't receive the sense of crucial understanding that they need." If survivors are going to move forward, Castelino says they need to be heard and believed by anyone they choose to tell. Then those people can ask survivors what they want their next step to be, whether it's therapy, a crisis hotline, group counselling, or a combination.
Family Rejection (Or The Fear Of)
"I was sexually assaulted for years by the son of the people who had adopted me, and when his mother found out (I was around 10), she sat me down and asked what was wrong with me that I would have allowed this to happen. Did I not know the difference between right and wrong?"
— A reader in Toronto, Ont.
Survivors need the understanding of their family, and 66 per cent of survivors are under age 24, according to a report by the Toronto Police Service. But a positive response isn't guaranteed from parents, says Castelino. When a survivor's experience isn't validated, it affects how they feel they deserve to be treated. It "shows how little is understood about the topic and post-traumatic stress disorder." Parents should have open and honest conversations with their children about sexual violence to let them know they will be supported if it were to happen, says Castelino.
The Guilt Of Disappointing Others
"I don't really know why I have hid it for so long. I'm not ashamed of what happened anymore. I know It's not my fault now; I just don't want to disappoint the people who love me. I don't want them to feel like it was their fault … It doesn't make sense for them to carry this too…"
— A reader in Winnipeg, Man.
Some people aren't emotionally ready to hear their loved one was raped, Castelino says. "If she doesn't feel it's a necessary component of her healing, it's totally her call. There's nothing wrong with that," she says. And as mentioned before, reporting doesn't guarantee you'll feel better. It's a combination of tactics that work best for the victim. If you think a loved one was raped, "be there for them until they are in a place to seek out help." Crisis hotlines are a good place to start if they're ready, she says.
Institutions Before Victims
— A reader in Vancouver, B.C.
"Then as I was older and it was the CEO of a company, the people around him said 'that's how he is.'"
— A reader in Vancouver, B.C.
It's not just Dalhousie University; many institutions turn a blind eye to instances of sexual harassment and violence. One in four women have faced sexual harassment in the workplace, according to Statistics Canada. Castelino says many universities have centres that help victims of sexual violence, but more protocols need to be in place. "It's one thing to take action to make sure justice is served, but also how do you prevent it from happening again?" Every institution must have a strong stance against sexual violence and show that it won't be tolerated, she says.
— A reader in Toronto, Ont.
You are part of the problem when you make rape jokes or make light of a victim's situation, whether you are addressing a victim or not, says Castelino. "It says so much about our culture and how off we are if people think they can joke about that." Take a stand when people make these jokes, and let them know it's not okay, she says. In the future, they'll think twice before saying those hurtful things.
"My counsellor at the local sexual assault centre has helped me so much — I would still be a broken, if not suicidal, woman without the support I have received (support I would not have been able to pay for). We not only need more centres like this, but we also need government-funded centres to support every man who's ever been a victim of assault."
— A reader in Halifax, N.S.
"Listen, listen, listen, there is nothing more noble in this world than someone being there for a victim/survivor and having the courage to listen because what the victim has going through their minds is nowhere close to what it may feel like for you just hearing it."
— A reader in Vancouver, B.C.
— A reader in Portland, Ore., U.S.A.
Considering a combination of solutions will help the survivor find out what works best, Castelino says. If someone comes to you as a survivor, listen and believe them, she says. "Listening is the best advice I can give anyone. Listen with an open heart and open ears to let them get it off their chest," Castelino says. "It's like getting the greatest hug in the world."