A teen is being lauded as a hero for his life-saving actions after a Fort Lauderdale, Fla. cop who was booking him suddenly collapsed.
In security camera footage from Sept. 10 and uploaded to YouTube on Tuesday, 17-year-old Jamal Rutledge is seen in handcuffs, kicking at a security fence to get help as officer Franklin Foulks lay on the ground, clenching his chest.
Rutledge was being booked on violation of probation charges at the time.
The teen's action brought Sgt. Todd Brunin to the scene, where the officer proceeded to take off Foulks' police gear and cut off his shirt, according to a news release. Another officer arrived and began performing CPR while a third got hold of a defibrillator, using it to stimulate Foulks' heart.
Fire rescue later arrived on scene and Foulks was transferred to Broward Health Medical Center. Hospital staff credited Rutledge's actions and the officers' quick response to Foulks' survival.
Foulks is back at work and remains on light duty. He is expected to make a full recovery by month's end.
As for Rutledge, he has been arrested "multiple times" since his September booking, The Sun Sentinel reports.
Rutledge and the three officers will be publicly recognized for their efforts at a city commission meeting on Jan. 21.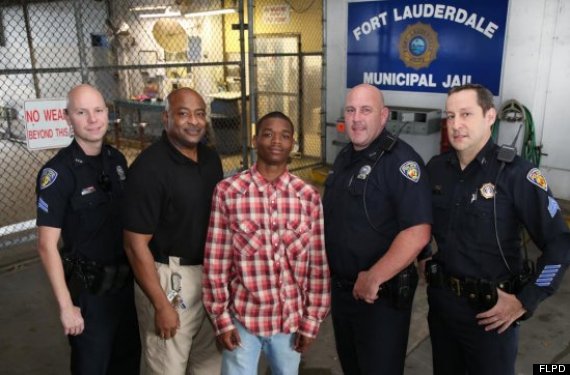 Seventeen-year-old Jamal Routlage (centre) pictured with officer Raymond Ketchmark (far right), officer Franklin Foulks (second from right), officer Robert Norvis (second from left), and officer Sergeant Todd Brunin (far left).
Like Us On Facebook

Follow Us On Twitter
Also on HuffPost