Just call them hop wheels.
Oreo, a partly paralyzed Netherland dwarf rabbit in Orangeville, Ont., could soon be moving along more freely after his owner raised money to buy him a wheelchair, The Toronto Star reports.
A fundraising goal of $300 had been exceeded by $35 as of Tuesday night, and now the four-year-old rabbit is set to travel to the community of Mt. Albert, where he'll be fitted with a chair that will help him move around.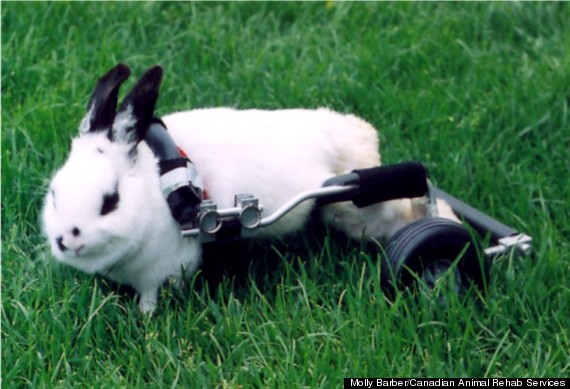 Bunny wheelchair. Photo courtesy of Molly Barber at Canadian Animal Rehab Services.
Robyn Koley, Oreo's 19-year-old owner, knew something was wrong last Halloween, when she noticed the rabbit flopping against the walls of his cage.
It turned out that he had developed Pasteurella, a respiratory infection that, for him, also led to neurological issues, said The Orangeville Banner.
As a result, Oreo could no longer use his back legs fully, and ended up "kicking and fussing around" if he wanted to walk, Koley told the newspaper.
Koley could have had Oreo put down, but instead, she started a Facebook page and a GoFundMe campaign to raise the money that Oreo would need to obtain a special rabbit wheelchair, which normally costs anywhere from $300 to $500, the Banner reported.
The campaign beat its fundraising goal last week and all additional funds will go toward the Rescue Angels Society, which works to re-home rabbits.
"I'm very, very, relieved," Koley told The Huffington Post Canada in a phone interview.
"This time two months ago we didn't even think he was going to survive. So now, knowing that not only is he going to survive, he's going to be able to function on his own again, it's just going to be amazing."
As for the wheelchair: it's an aluminum structure with a saddle for the hobbled animal to sit in, and a yoke that lies on its shoulders.
It isn't certain whether Oreo will hop once more in his life. Veterinarian Dr. David Kirkham, who has treated the rabbit at the Cheltenham Veterinary Centre, said antibiotics could help him recover fully.
For now, Koley is just glad she stuck by her bunny friend.
Check out some photos of Oreo, the hobbled bunny: