B.C. First Nations are celebrating a "big success" after news that the provincial government is purchasing a controversial piece of land from a private owner.
Grace Islet, located off Saltspring Island, is a First Nations burial site containing at least 16 cairns. First Nations have been raising the alarm about the potential for development there since 2006, but the site drew major attention last summer when owner Barry Slawsky began constructing his retirement home.
Concerned citizens held rallies, set up floating blockades, and kayaked around the island to show their disagreement with the development. And after months of action, it worked.
On Thursday, the province announced it partnered with the Nature Conservancy of Canada and First Nations groups to purchase the land from Slawsky, an Edmonton-based businessman and former owner of the San Francisco Gifts stores.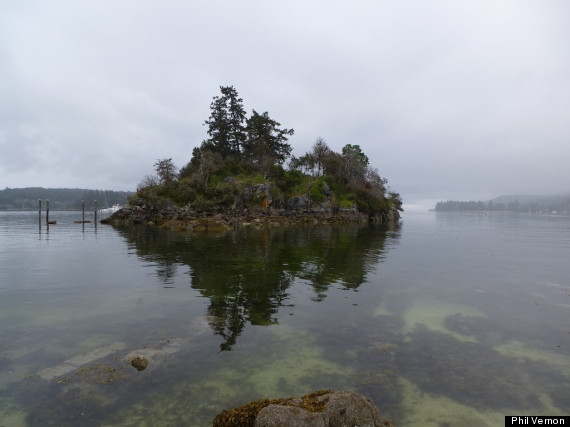 Grace Islet, located off Saltspring Island, is a First Nations burial site containing at least 16 cairns.
"In addition to its cultural significance as a burial site, Grace Islet is ecologically valuable for its plant communities, intertidal habitat and as a small component of the rare Coastal Douglas-fir ecosystem," said a news release announcing the "framework agreement." Once final negotiations close, the province and its partners will work on a remediation and management plan for the islet.
Joe Akerman, who runs the Grace Islet Facebook page and was a big part of the protests, called the news monumental because it signifies a more even playing field for land disagreements.
"Development was always a priority over cultural values," he told The Huffington Post B.C. "The government always professed trying to reach a balance but the balance always tripped in favour of development and not respecting the cultural and spiritual beliefs of First Nations."
Akerman, who is Cowichan on his father's side, said the land deal is "a big success to be celebrated" and marks "the start of a long journey towards true respect and reconciliation."
The fight for Grace Islet highlights the long-standing complexities between registered cemeteries and ancient burial grounds. There are over 2,000 sites in B.C. believed to contain First Nations remains, according to The Globe And Mail. But they aren't recognized or protected the same way cemeteries are.
"You have cultural or race-based differences in the protection offered to human remains and burial grounds," George Nicholas, an archaeology professor at Simon Fraser University, told the newspaper. "Post-1846 in British Columbia, it is a cemetery. Pre-1846, it is an artifact, an archaeological site."
While the conflict is far from over, Akerman said Grace Islet has at least set the conversation in motion.
"De-colonization in this country is a difficult and messy process and it is only just beginning," he said. "Now we need to turn our attention all of the other sacred and cultural sites, and other reconciliation efforts."
See more photos of Grace Islet: