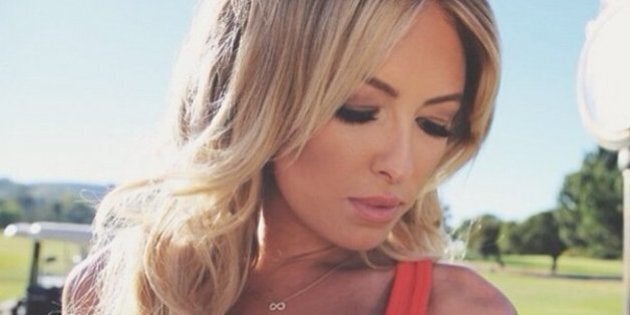 The pregnant NHL heiress started a second Instagram page last week and it's a fashion lover's dream. (In other words, it's totally Paulina.)
But rather than post sexy selfies, the 26-year-old Golf Digest cover gal shares photos of her designer goods, luxurious travels and her beauty must-haves.
For example, on Saturday, Jan. 17, Wayne Gretzky's daughter posted a pic of an expensive Rolex watch fiancé Dustin Johnson gave her as a "pre push present." (Ladies, is this a thing now?)
Paulina also posted a pic of her gorgeous black leather Celine bag, which was almost overshadowed by her cute pooch Charlie.
The blond beauty also gave us a glimpse into her makeup routine:
She also wasn't shy about revealing what she carries in her Celine bag:
Girl is also a fan of Lululemon:
She also has expensive taste in perfume:
Basically, we're officially obsessed with Paulina's second Instagram account and we hope she posts photos of her many outfits and bikinis.