WARNING: Some explicit language! (After all, it is Russell Brand...)
Last week, the cover of In Touch magazine featured Bruce Jenner as we've never seen him before: dressed like a woman with a feminine hairdo, lipstick and other makeup.
The photo was obviously very fake, with Jenner touched up. It turned out he was superimposed over "Dynasty" star Stephanie Beacham. Completely unfounded rumours have been circulating for several months that Jenner is considering transitioning into a woman, even though Jenner himself has denied them.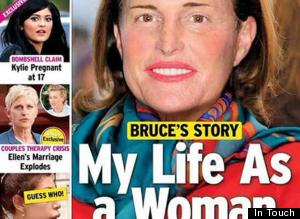 The In Touch cover touched off a media firestorm, and even prompted Jenner's ex-wife Kris Jenner to say "It's just mean to do whether or not it's true." The Kardashian family has also reportedly decided to not give In Touch magazine any more quotes or interviews.
Jenner now has an unlikely ally: comedian Russell Brand. In the above video, on his web series "The Trews," Brand let loose on In Touch and the media for engaging in transphobic behaviour.
Watch video, above. Here's a sample of his rant:
"It is, I believe, worth noting that I don't think we'd see a cover like that if a woman was thought to be transitioning into a man. There is, after all, something inherently comical and weird about women, isn't there? In the world of tabloids, women -- regardless of their accomplishments--- are pretty much nothing but victims of their own highly unstable emotions and propensity for fat thighs. Occasionally, they're unstable, fat and evil. But they're never ever presented as something anyone not already cursed with womanhood would want to be. To the tabloids, the thought that a male would transition to female is as if he'd want to become a particularly unattractive many-tentacled clown creature."