Vancouver police were almost outsmarted by a fugitive who tried to hide from officers — inside a sofa.
Acting on a tip, police went to an East Van home with a search warrant for Adam Harlock, who is on the run from authorities in Alberta after being sentenced to 3.5 years for drug offences.
Officers searching the home for Harlock, 36, were close to giving up when a police dog began to focus on the living room couch, said a news release on Wednesday.
Police lifted the sofa, removed the fabric from the bottom, and found the wanted fugitive hiding inside.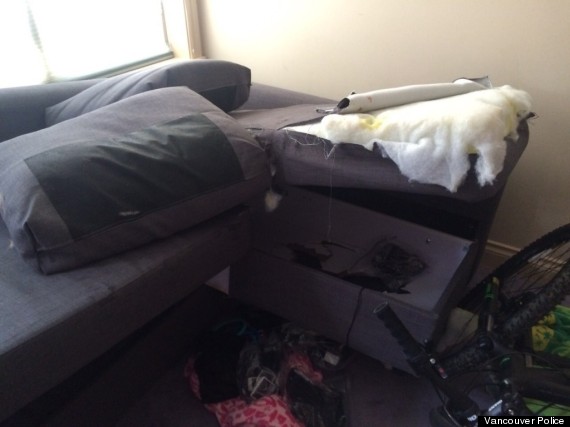 An Alberta fugitive was found hiding inside this couch. (Photo: Vancouver Police Dept.)
"In my 24 years of police service, I have never in my career seen a suspect hide inside the body of the sofa," said Vancouver police Insp. Ian Upton in the release.
Harlock is now being returned to Alberta to finish his sentence.
"His new accommodations might not include a sofa as comfortable as the one he was found hiding in," said the release.
Like Us On Facebook

Follow Us On Twitter
ALSO ON HUFFPOST: