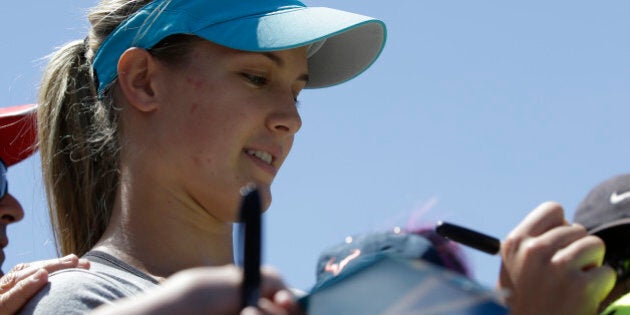 There's a reason Eugenie Bouchard has a whole "army" behind her — it's because she always has time for her fans.
As Taylor Fahey, the owner of the phone, explained to Ottawa sports station TSN 1200, "She was just about to walk through the [players'] tunnel to leave and I called her name. She looked up at me and I just said, 'Why not?' I threw my cell phone down, she caught it with one hand, like nothing, just a good athlete there, and took a selfie for us and passed it back up."
Pablo Juarez, who along with Fahey, posted the photo, put this up on Twitter as well:
The pair are both from Ottawa originally, and are currently working in Australia.
When a journalist at the Australian Open asked Bouchard to "twirl" after her match, supporters took to Twitter to defend her.
And count on a Canadian sports station to understand that she's far more than a pretty face. After inquiring of Fahey if he'd asked Bouchard on a date, the host quickly corrected himself, saying "She's got more important things to deal with."