As the NDP and Conservatives spar over whether or not Canada is involved in a ground combat mission in Iraq, one NDP MP has taken his red teacher's pen to the talking points of a Tory minister.
On Wednesday, NDP foreign affairs critic and former public school teacher Paul Dewar took to Facebook to post his corrections to a newsletter statement on the Iraq mission released by Intergovernmental Affairs Minister Denis Lebel. Dewar, unsurprisingly, gave Lebel's fact sheet a failing grade.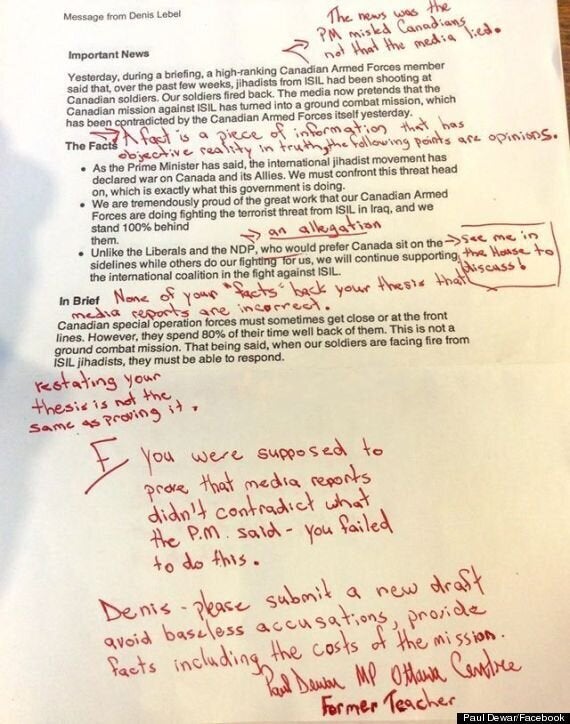 Dewar posted the corrections with the caption: "Once a teacher, always a teacher. I expect better from Denis Lebel, a minister in government."
Dewar told The Huffington Post Canada in an email that the corrections are "effective and humorous way of engaging Canadians." So far, he seems to be right. The post has more than 1,000 likes.
Dewar's Facebook post comes amid mounting debate over the status of Canada's mission in Iraq.
Earlier this week, the military revealed that Canadian troops involved in a battlefield planning exercise exchanged fire with Islamic State fighters.. It also acknowledged its soldiers have helped Kurdish forces by directing coalition air strikes. The Conservative government has repeatedly assured Canadians that troops on the ground in Iraq are there to assist Iraqi and Kurdish forces and not to engage in combat.
Dewar told HuffPost that he has been criticizing the Tories all along for calling this a non-combat mission "when it was clear that mission creep was a real possibility."
"The Conservatives didn't know what exactly they were getting into," Dewar said in an email. "They thought NDP questions would go away if they kept repeating their 'non-combat' line."
For their part, Lebel and the Tories are staying on message.
"Our Special Operations Forces Personnel are not seeking to directly engage the enemy, but we are providing assistance to forces that are in combat. These activities are entirely consistent with the advise and assist mandate," said Lebel's spokesperson Vincent Rabault in an email. "As the Prime Minister has said, the international jihadist movement has declared war on Canada and its allies. We must confront this threat head on, which is exactly what this government is doing."
Dewar counters that while "terrorism is a real threat to peace and security at home and abroad," the notion that the government is confronting the threat "head on" is a "matter of opinion." The MP from Ottawa said government cuts to the RCMP and Canadian Border Services Agency have actually reduced "front-line resources" needed to protect public safety.
This isn't the first time Dewar has voiced exasperation with a Conservative for voicing talking points on Iraq he thinks are less than convincing.
In September of last year, Dewar became frustrated with Tory MP Paul Calandra for steadfastly adhering to his talking points, regardless of the question. His facepalm response went viral.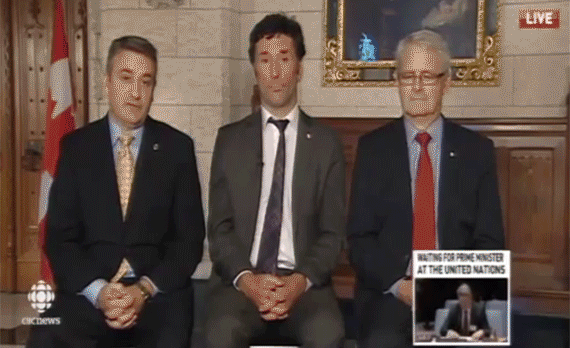 As for his feelings about Lebel, Dewar said that the minister's work does not compare favourably with that of his former students.
"My students were a lot more rigorous in their research – and always interested in improving their work."
With files from The Canadian Press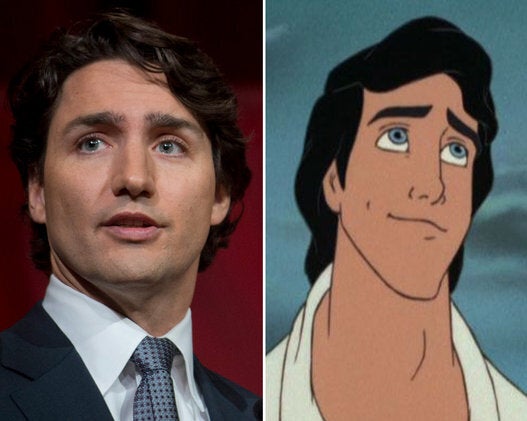 Canadian Politicians' Uncanny Lookalikes