Miss Universe Canada inspired both horror and praise when she stepped out in a hockey-inspired costume at the annual pageant on Wednesday.
Chanel Beckenlehner's garb shocked many during the "National Costume" contest, where contestants wore outfits that represent their countries.
Her dress was composed of a corset with a maple leaf, hockey sticks arranged to look like wings, a wig with a Stanley Cup tiara and a dress that emulated goalposts and a net.
It even had a scoreboard!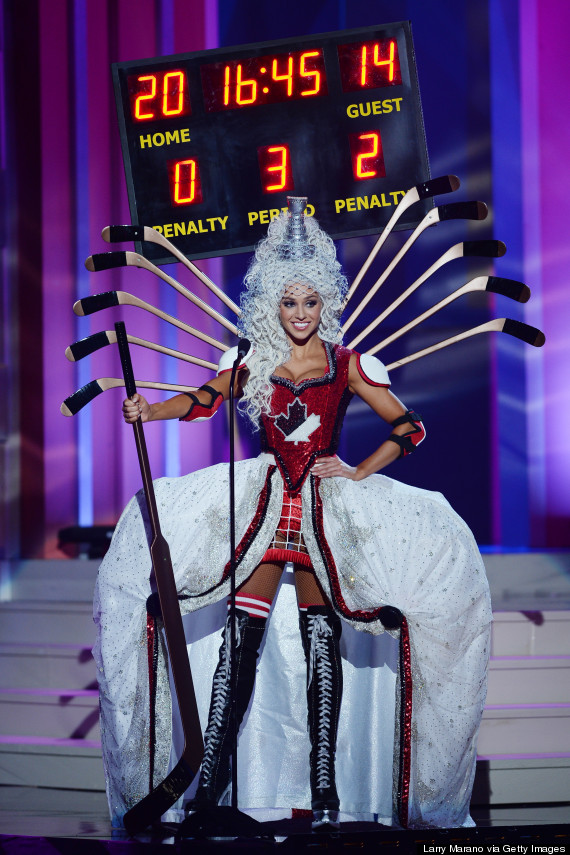 The horrified reaction some people had toward the costume should surprise no one. Its creator, Toronto-based costume designer Alex Kavanagh, is the same person behind Jigsaw, the serial killer from the "Saw" movies, CTV News reported.
"Some people really, really hate it and others really, really love it — but everyone has noticed it, that's for sure," she told the network.
Kavanagh has worked on many horror films including "Ginger Snaps 2" and George A. Romero's "Land of the Dead."
But designing a pageant dress was a first for Kavanagh and Beckenlehner wanted something "a lot more elaborate" than Canadian costumes in past contests, CP24 reported.
She and her team of around a dozen spent months building the costume, and she's happy that it has made an impact.
It even ranked in the top five costumes of the competition, CP24 said.
Check out the rest of the Miss Universe "National Costumes" right here: