Julianne Moore isn't just the Oscar frontrunner in the Best Actress category for her devastating performance in "Still Alice," she also hits home run after home run with her style on the red carpet.
The 54-year-old actress won a Screen Actors Guild award for Outstanding Performance by a Female Actor in a Leading Role for her aforementioned part, and looked every bit a winner on stage. Wearing an emerald green tank column dress from Givenchy Haute Couture, the star's show-stopping look was made even more special as the light reflected off of her gown's fringe-like bead work.
Yet, as Moore's trophy case continues to grow, so too does her humility. While accepting her SAG Award statue, she kicked off her speech with, "When I was on 'As the World Turns,'" which got a big laugh from the crowd. Later on, as the "Birdman" cast said their thank yous for winning Best Ensemble Cast, Zach Galifianakis lovingly parroted Moore's line, earning a bigger audience guffaw.
Congratulations, Julianne on another big win and for contributing to both the night's best style moment and biggest laugh!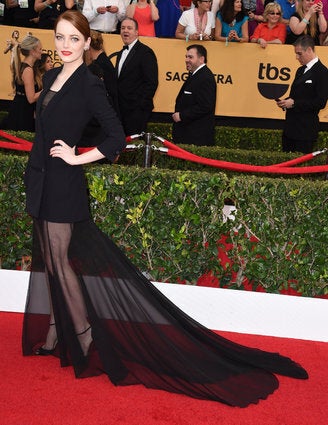 2015 Screen Actors Guild Awards Red Carpet Fashion