No actress appears to have as much fun with their red carpet style as Lupita Nyong'o does. The Oscar winner never repeats a look or trend, and always tries to push her fashion sense to the limit, even if it's on the unconventional side.
Her sartorial glee continued at the 2015 SAG Awards. Having won last year for her role as Patsey in "12 Years a Slave," Nyong'o returned as a presenter, and shared the stage with fellow 2014 winner Jared Leto.
But first, she wowed while posing in a longsleeved, black-and-white striped, floral Elie Saab dress. With a plunging neckline, Fred Leighton jewelry and a Judith Leiber Couture clutch, Nyong'o looked poised and delighted to be in the company of her fellow actors. The "Non-Stop" actress also sported a braided updo for the occasion.
Lupita Nyong'o looks stunning tonight. #SAGAwards pic.twitter.com/sTgFcGvEgO

— BuzzFeed Community (@BuzzFeeders) January 26, 2015
During the awards ceremony, Nyong'o and Leto presented the Outstanding Male Actor in a TV Movie or Miniseries category, but inadvertently created a viral moment. The "Dallas Buyers Club" star locked eyes with Nyong'o, and pulled her in closer to him while they were conducting their official duties. How's that for chemistry?
The way that Jared Leto stares at Lupita Nyong'o though... http://t.co/rHerrrJFpB pic.twitter.com/Kl3EhMBdhD

— E! Online (@eonline) January 26, 2015
The way Jared Leto kinda just... pulled Lupita into his body at the end there was kinda hot, right? #SAGAwards

— Elaine L. (@LaineyGossip) January 26, 2015
The two stars fought off romance rumours last awards season, with Nyong'o addressing it on "Ellen," joking, "Ah, but I thought Miley Cyrus broke us up." Similarly, Leto dubbed her his "future ex-wife" upon accepting his Independent Spirit Award last March.
As recently as last November, Nyong'o was romantically linked Canadian rapper K'Naan. She'll next appear on-screen in "Star Wars: Episode VII - The Force Awakens."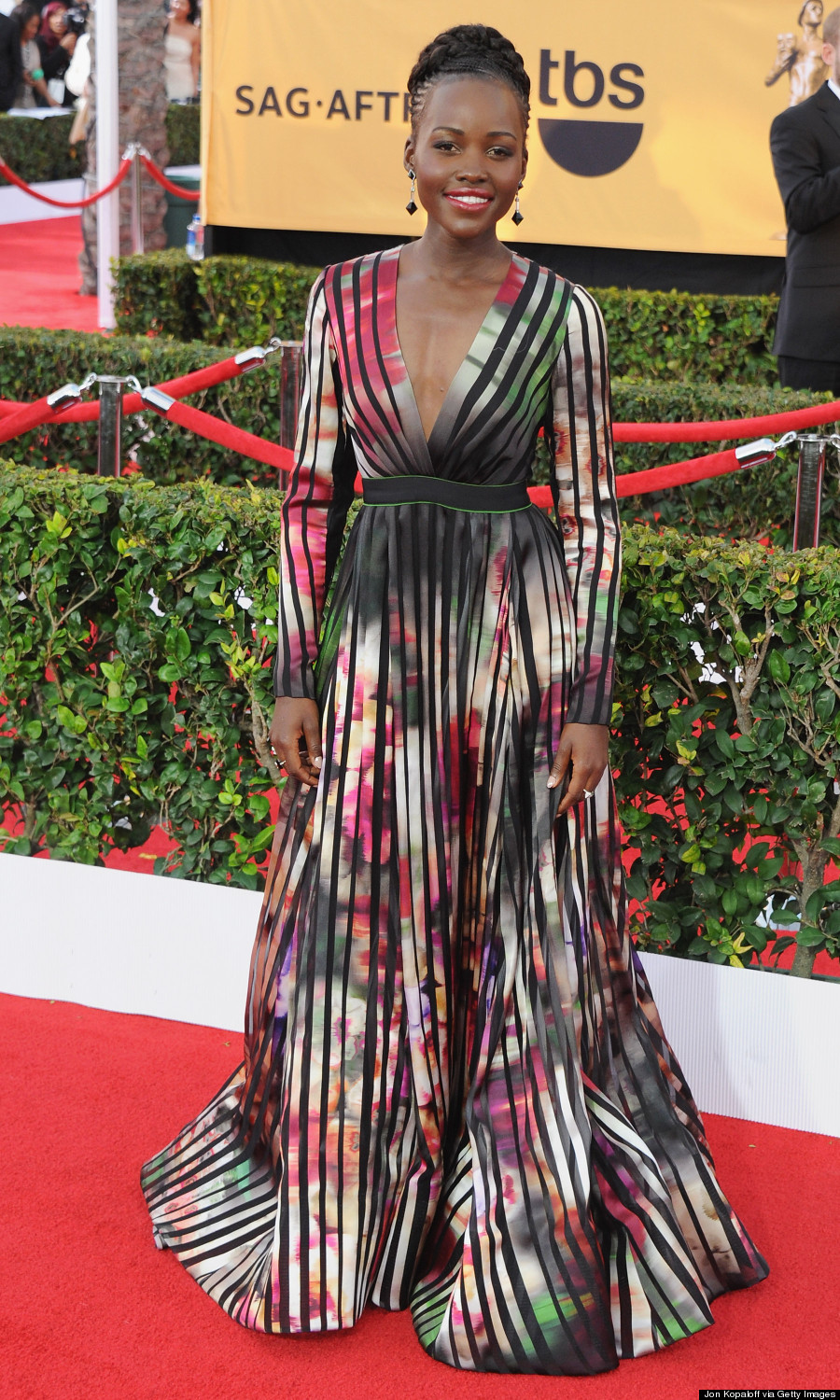 What do you think of Nyong'o's red carpet look? Sound off in the comments below:
ALSO ON HUFFPOST: