A man wanted by police turned himself in to the Royal Newfoundland Constabulary (RNC), after promising to do so on Facebook.
The police service said in a Saturday post (which is no longer available) that it was looking for 29-year-old Rodney Constantine in connection with warrants for various charges including assault and some traffic issues.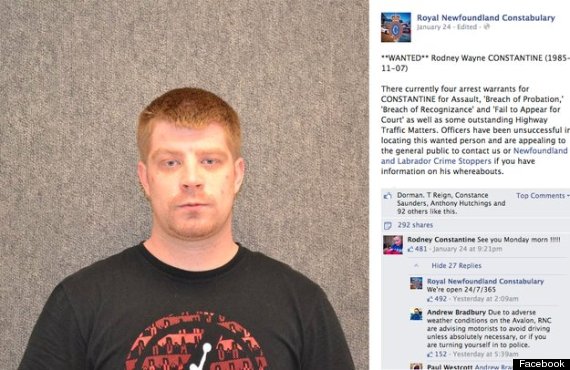 (Screengrab via BuzzFeed)
A user with the very same name responded to the post that day, telling police, "See you Monday morn !!!!," a message that gained almost 500 likes.
The constabulary later responded, "We're open 24/7/365," and that too proved popular with its followers.
Both Constantine and the police later engaged in a back-and-forth in which the force had to explain why it was important for the suspect to deal with the charges in court.
Constantine responded again, CBC reported: "Look just letting everyone know this ain't a joke or intended !!!! I was just been honest about turning in Monday morn that's all !!!!"
And it appears he's a man of his word. The RNC said Monday that Constantine had turned himself in.
RNC spokesman Steve Curnew told BuzzFeed that this isn't the first time a person has contacted police after word spread about them on social media.
Like Us On Facebook

Follow Us On Twitter

ALSO ON HUFFPOST: