A federal Liberal candidate in Alberta has distanced himself from a tweet mocking Prime Minister Stephen Harper for reportedly ducking into a closet during the Parliament Hill shooting last October.
On Tuesday, a tweet from an account associated with Darshan Kang's campaign showed a photoshopped image of Harper hiding behind closet doors, next to the prime minister's recent remarks on the firefights between Canadian troops in Iraq and ISIS. At an event in St. Catharines, Ont. last week, Harper said: "If those guys fire at us, we're going to fire back and we're going to kill them."
Underneath the image, a caption reads: "There's only been one instance of Stephen Harper being anywhere near gunfire, how did that go?"
Though the tweet was deleted, a few people screengrabbed the image.
Kang, a Calgary Liberal MLA who was acclaimed the federal Grit candidate in the riding of Calgary-Skyview, told the National Post that campaign volunteers post the tweets that appear on his "Elect Darshan Kang" account. While he normally approves the tweets, this one "slipped by" and doesn't reflect his opinion. He also told the Post he has the "utmost respect for the prime minister."
Kang, first elected provincially in 2008, is considered a key part of Liberal Leader Justin Trudeau's plan to win as many as eight seats in Alberta in the next election.
In a year-end interview with CTV's Question Period that aired earlier this month, Trudeau was asked about Harper's decision to reportedly take shelter once gunman Michael Zehaf-Bibeau stormed Parliament minutes after killing Cpl. Nathan Cirillo at the National War Memorial.
"Would you have hidden in the closet like the prime minister did?" host Robert Fife wondered.
The Liberal leader said that he wouldn't "second-guess" Harper's decision, saying it's difficult to know how one would behave in a similar situation.
But when Fife asked what Trudeau's father might have done, the Liberal leader gave a revealing answer.
"My father raised us to step towards trouble rather than step away from it but, again, I won't speculate on that," he said.
The quip didn't sit well with the National Post's editorial board, who accused Trudeau of implying on TV that he's braver than Harper.
"Mr. Trudeau's vainglorious remark, if serious, would suggest that as Prime Minister/warrior king, he'd be just another complication for his guards to deal with," a Post editorial from Jan. 5 read.
Harper declined to comment on whether he was put into a closet during the attack when asked by the CBC's Peter Mansbridge in a similar year-end interview in December. CBC News reported in October that the prime minister apologized to his Conservative caucus for taking shelter and then heading to a more secure location during the shooting.
Many have used the closet incident to poke fun at Harper, particularly on social media. But at least one rival has gone public to say such digs at the PM's courage are totally unfair.
NDP MP Dan Harris took to Facebook in October to slam the "vicious, petty, demeaning and so stupidly wrong" comments directed at Harper over his actions during the crisis.
"I doubt the PM and I will start agreeing on many things but on this point I will gladly defend him for doing what was in the best interest of the country," Harris wrote.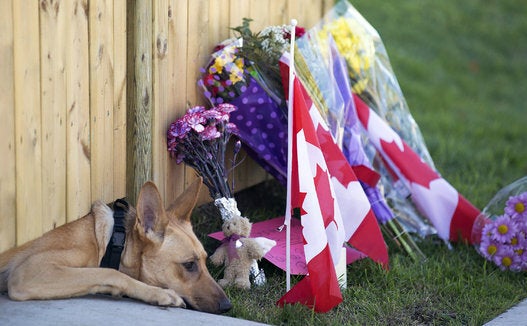 Nathan Cirillo's dogs wait for their master