The "Real Housewives of the NHL" it is not, but a new series on the W Network is offering viewers new insights into the lives of professional hockey players and their spouses.
"Hockey Wives," an eight-part documentary series, has added the last of its cast members and is set to premiere March 18 at 10 p.m. ET/PT, said a Monday news release from Corus Entertainment.
It aims to show how the wives of NHL stars juggle their families and their own careers and includes a few notable names:
- Noureen DeWulf, star of FX's "Anger Management" and wife of Vancouver Canucks goaltender Ryan Miller;
- Kodette LaBarbera, social activist and wife of Anaheim Ducks goalie Jason LaBarbera;
- Emilie Blum, ex-intelligence specialist for the U.S. military and wife of Minnesota Wild/Iowa Wild defenseman Jonathon Blum.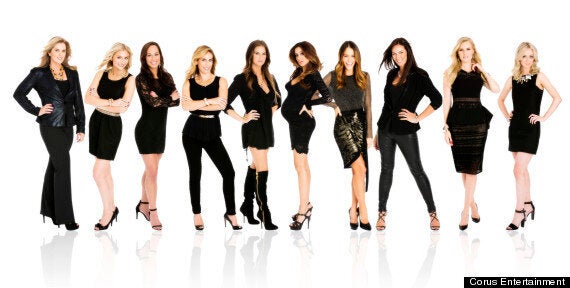 John MacDonald, vice-president, television and head of Corus Women and Family, promised in a statement an "insider's look at how exciting and glamorous the lives of these 10 independent women can be."
But he also said the show will address the "many challenges and crises all relationships face" when people live in the public eye.
Oh, and then there's also the trades, travel and long times away from each other.
This is not the first time a television series has tried to depict the lives of hockey wives. In 2008, CBC aired a fictional series titled "MVP" which detailed the off-ice travails of a hockey team, and it was cancelled after a single season, Yahoo! points out.
Perhaps a dose of reality is what viewers are really looking for.
Meet the cast of "Hockey Wives" right here: