Not all eyes were on Barack Obama while he was in Saudi Arabia.
On Tuesday, the President was in Riyadh to pay his respects to the late Saudi King Abdullah, but most people (at least on social media) were paying more attention to Michelle Obama.
The First Lady opted not to wear a headscarf during the visit, which prompted the hashtag #michelle_obama_notveiled.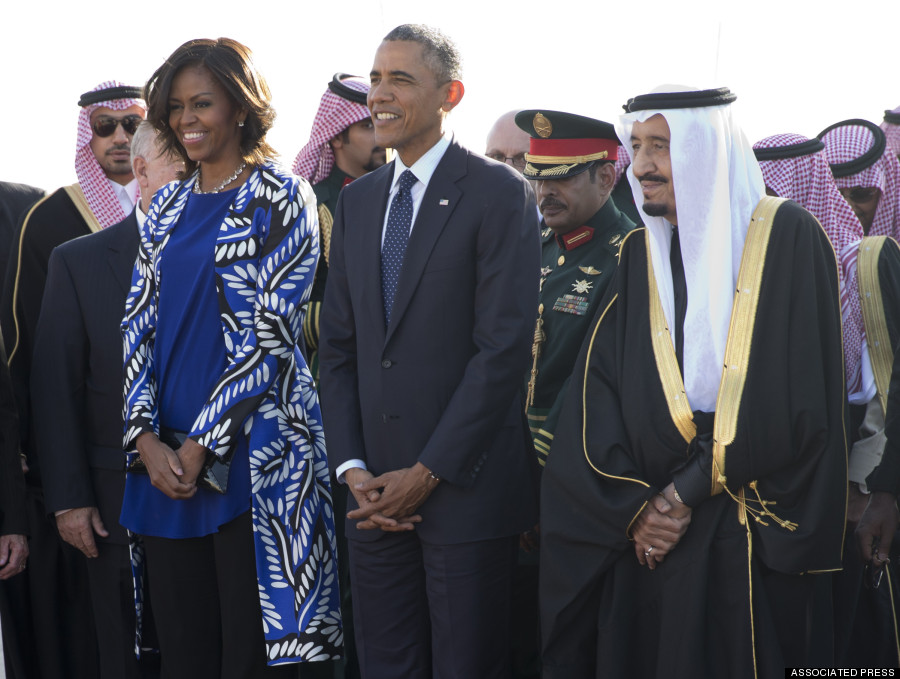 While most of the responses were positive, many of them criticized FLOTUS for not respecting the country's customs, in which most women are expected to cover their heads, and many of whom wear a niqab.
On Twitter, some people chastised Obama for not wearing a headscarf:
she was a guest in another country &culture.She should make no judgements, but show proper respect at a funeral.2 #Michelle_Obama_NotVeiled

— Mony Al-Ali (@MonaBadah) January 28, 2015
Michelle Obama shouldve stayed in Airforce One as a sign of boycott rather than flouting rules of another country #Michelle_Obama_NotVeiled

— Abhimanyu Arora (@Random_Arora) January 28, 2015
While others applauded the First Lady for standing up for oppressed women:
For us who've been forced to wear hejab, follow others' beliefs, 4 oppressed women everywhere, thank you @FLOTUS#Michelle_Obama_NotVeiled

— Niaz Kasravi (@NiazKasravi) January 28, 2015
THANK YOU @MichelleObama for standing up for women. Now can we also tell them that lashes & beheadings are not ok. #Michelle_Obama_NotVeiled

— Piccia (@Piccia) January 28, 2015
Others had a simpler explanation for why Michelle didn't wear a headscarf:
Of course Michelle Obama didn't cover up. All the work sista's put into their hair?! #Michelle_Obama_NotVeiled

— Cyrus McQueen (@CyrusMMcQueen) January 28, 2015
It should be noted that exceptions are occasionally made for foreigners, and Michelle—who wore clothing that covered her arms—isn't the only American political figurehead to have opted not to wear the scarf. Hillary Clinton, Laura Bush and Condoleeza Rice all chose not to wear one.
Several Saudi officials also shook hands with the First Lady, while others just nodded in her direction.
Hey, if we were Mobama, we wouldn't want to ruin our perfect hairdo either.
What do you think? Should Michelle Obama have followed the country's customs and worn a headscarf or should she be free to wear or not wear whatever she wants?
Follow Huffington Post Canada Style on Pinterest, Facebook and Twitter!
Also on HuffPost