Hello readers!Just a note that this story was published in 2015, so that price you see? It's in 2015 dollars. The property also sold that year to Blair and MJ Johnson. But while you're here, perhaps you'd like to take a look at these dreamy real estate listings:
That magical place in southeastern B.C. known as The Enchanted Forest is up for sale.
The 38 acres of fairy tales come to life — the Three Little Pigs' houses, a castle with a dungeon (and prisoners!), and the shoe where the old woman lived with so many children she didn't know what to do — has been listed for $2.7 million.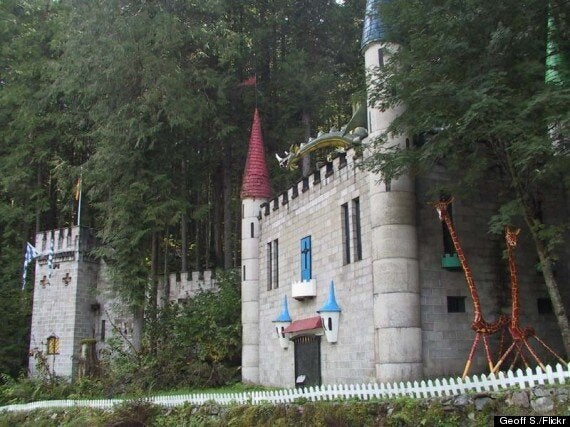 The "turnkey business," as it's advertised, has grown through the years to include B.C.'s tallest treehouse as well as the SkyTrek Adventure Park, which boasts zip lines, climbing walls, and bridges suspended in the wilderness.
The Enchanted Forest — located on the Trans-Canada Highway between Sicamous and Revelstoke — is a fond childhood memory for many British Columbians (and tourists) taking road trips through that part of the province. It attracts 85,000 visitors each year.
Current owner Rocky Ehlers hopes the forest will continue to create magical memories.
"We'd like to see somebody who would like to buy it and carry it on. We sell a good product. We sell healthy recreation for people of all ages. They don't get fat and they don't get drunk," Ehlers told The Huffington Post B.C. in an interview.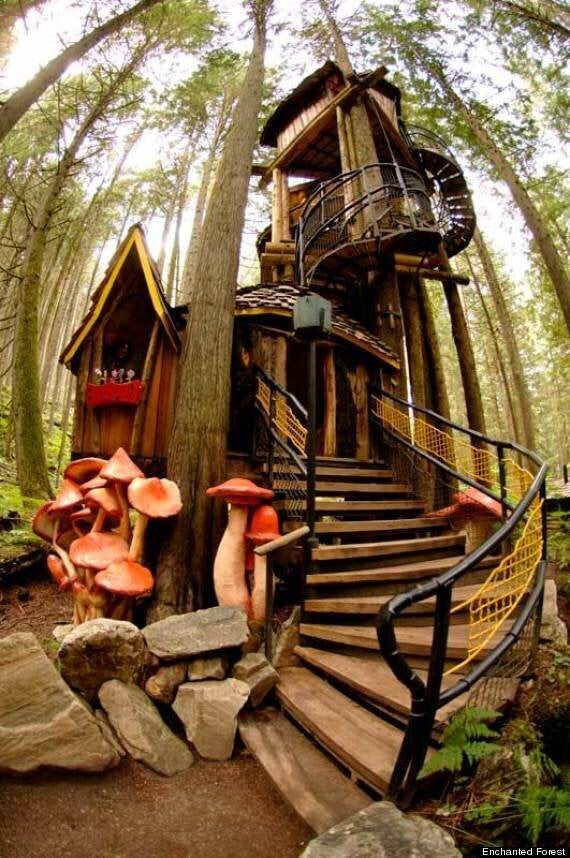 Ehlers and his wife are the third owners of the property. They are selling because they want to retire and travel more.
"I'm old," joked Ehlers, 69, who has three children and six grandchildren.
Sutton Group sales agent Steve Daschuk says this is more than a business transaction for the current owner: "He loves it. It's his heart and soul, this place. He's picky about who to hand it over to."
Story continues after slideshow: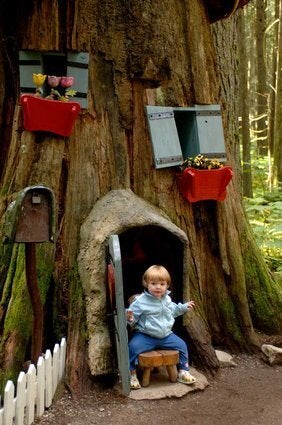 The Enchanted Forest On Revelstoke, B.C.
Original owner Doris Needham was an artist in the '50s who created fairy tale figurines from cement without any molds or forms. She and her husband, Ernest, found the isolated forest to showcase Doris' creations as a retirement project. For 10 years, they cleared trails by hand using shovels, picks, and a crosscut saw, says the Enchanted Forest website.
The Enchanted Forest opened in 1960, drawing a growing number of visitors. Telephone service didn't arrive in the area until 1980, and electricity in 1981.
Today, more than 350 figurines are still displayed throughout the attraction.
Ehlers said he's had some very rewarding 25 years running the beloved site: "I do what children do for fun. I build treehouses and forts, and then people come to see it."