Pete Thorne
The world has seen enough pictures of puppies to last a lifetime. But now it's time for the old dogs to shine.
For that there's "Old Faithful," a portrait series of some seriously elderly canines — greying fur and all.
"I'm usually looking for real tell-tale signs of aging, so chipped or missing teeth, grey hair, foggy eyes, and stuff like that," Pete Thorne, the photographer behind the project, told The Huffington Post in an interview.
"Some people don't really understand what I'm looking for because they almost apologize for the shape their dog is in. But I really want to see them in that shape, a little bit more raw and unpolished."
Thorne has already taken pictures of dogs in Toronto, where he is based, as well as Halifax and Winnipeg. But now it's Vancouver's turn.
When he announced he was taking the project to the west, Thorne's inbox blew up with enthusiastic responses.
"I've had probably over 300 people email me, possibly closer to 400," Thorne said, explaining that his available slots filled up immediately. "I should have known, because I lived in Vancouver for five years. So I was very aware that it is a dog city."
Thorne will be snapping Vancouver's old dogs over the next few days at the Burrard Arts Foundation gallery and studio, and is also partnering with SAINTS (Senior Animals In Need Today Society) Rescue in Mission to photograph a handful of their senior canines.
"The owners want him to capture the beauty of their senior. We have a bunch of homeless ones and we would also like that experience for them," SAINTS' Board of Directors member Nicole McClelland told HuffPost B.C.
"I think it'll be good exposure just for what we do. We've been around for 10 years, but people could know more about us and what we do, and who we care for, and why it's important."
She said SAINTS mostly receives strays from shelters or dogs that simply can't be cared for by a family any longer.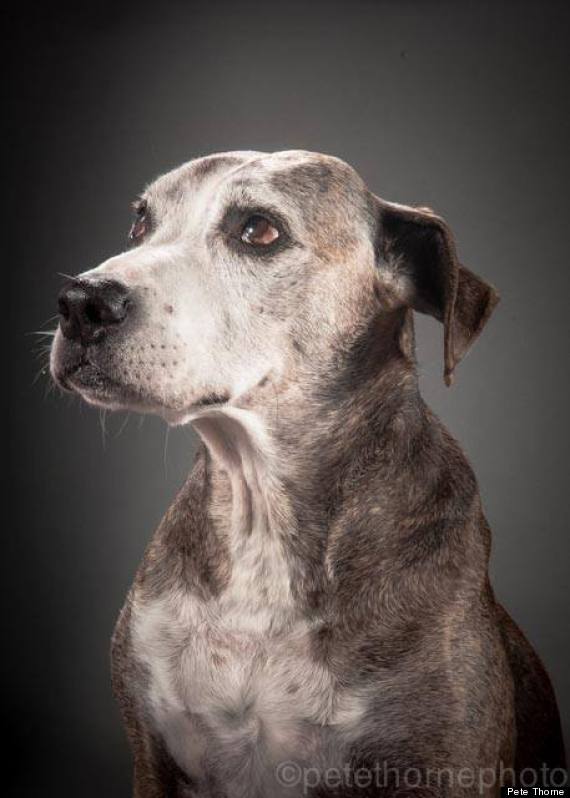 Since starting "Old Faithful," Thorne has photographed over 100 dogs and is set to publish a book with HarperCollins.
The idea for the portraits came out of celebrating his grandmother's 100th birthday in Halifax.
"I was really interested in doing a portrait of her. But she wasn't really up for it; it was kind of a stressful day for her," he said. "I couldn't really shake it out of my mind. I got interested in photographing elderly subjects, just because I realized it's difficult to do."
While exploring the idea, Thorne noticed how much character aging dogs have in their faces. And he found it much easier to convince people to let him take photos of their furry friends.
After all, as the project name suggests, aged dogs may be old — but they sure are faithful.
"I think every home needs to have an older, chill dog," McClelland said. "They're great companions; some are still able to go out on adventures with you, but most of them are good at hanging out with you and being there."
See some of the photos so far in the "Old Faithful" series: