If it's worth it, Katy Perry works it. From the looks of it, the Super Bowl XLIX halftime show was definitely worth "get[ting] your freak on" for.
After a series of teases and performance promises ranging from "sharks and lions" to duets with Lenny Kravitz and Missy Elliott, Perry delivered on her "female-fun night" pledge with the help of plenty of pyrotechnics.
Dressed in four different Jeremy Scott looks, Perry kicked off her 12-and-a-half minute set with a performance of "Roar" atop a massive 12-foot-tall lion. With her hair up in a high ponytail, the headliner stood proudly in her 3D Guy Fieri-esque flamed mini skirt and crop top, before segueing into her hit "Dark Horse." Now surrounded by moving metallic chess piece dancers on revolving-height platforms, Perry did minimal dancing herself but still stood out amidst the spectacle.
Oh look! It's a 12-ft tall lion and @katyperry #sb49 pic.twitter.com/esaQ4a4bhR

— HuffPost Canada (@HuffPostCanada) February 2, 2015
Who wore it better?

Guy Fieri vs. katy Perry

#SB49 pic.twitter.com/QHLbt7ub0T

— HuffPost Canada (@HuffPostCanada) February 2, 2015
Soon after, she was joined by a leather and chainmail-clad Lenny Kravitz, and the two sang her breakout first single "I Kissed a Girl" back-to-back. A few guitar riffs later, the scene transformed into a Mario Party-looking set of stuffed cartoon sharks, beach balls and surfboards which could only suggest that "California Gurls" was on its way. Instead, "Teenage Dream" was first, and Perry made a quick change into a halter beach ball-inspired look, with the same mini skirt hemline as before. Swaying from side-to-side, a number of polka dot pin-up dancers ran on-stage to transition into her ode to the Golden State.
Story continues below slideshow
REMINDER

Live every week like it's...

February 2, 2015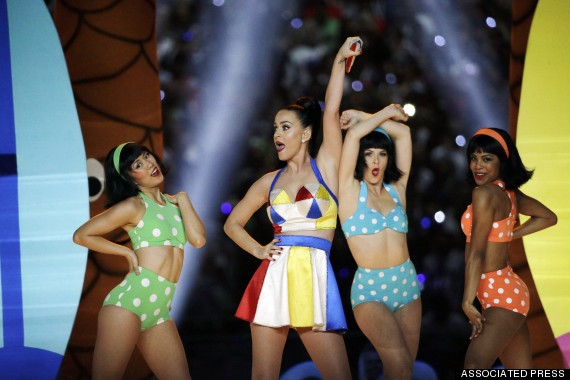 But, that wasn't the moment that "broke the Internet" — That belonged to Missy Elliott.
RT if you think Missy Elliott stole the show. #sb49 pic.twitter.com/eksTxLmW5X

— HuffPost Canada (@HuffPostCanada) February 2, 2015
The reclusive hip hop queen crashed the party with a medley of hits, starting with "Get Ur Freak On." Working a glow-in-the-dark black-and-white tracksuit, Elliott kept her hair up in a similar ponytail to Perry's, and dropped all of her verses with a "M.E."-encrusted microphone. What's not to love? After a quick-change, Perry joined her on-stage in a sporty black-and-white jersey with the number 49 on it, as a shout-out to the Super Bowl's berth.
The twosome powered through "Work It" and "Lose Control" as the all-black dancefloor radiated with neon blue and pink accents.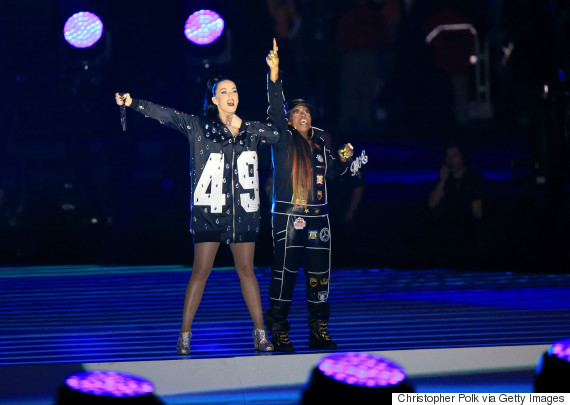 Yet, Perry knew it was time to bring it home. For her final look, the 30-year-old singer rose from the stage on a moving shooting star platform in a one-shoulder silver dress comprised of, you guessed it, silver, white and red stars. With a sheer panel around her midsection, Perry belted out her power anthem "Firework" as she flew across the University of Phoenix Stadium. As the Super Bowl was being broadcast on NBC, many online compared her big finish and fireworks launch to a giant "The More You Know" public service announcement that used to frequent the network's advertisements.
but why is katy perry riding the The More You Know star pic.twitter.com/Id5ri3IEAD

— Shea Serrano (@SheaSerrano) February 2, 2015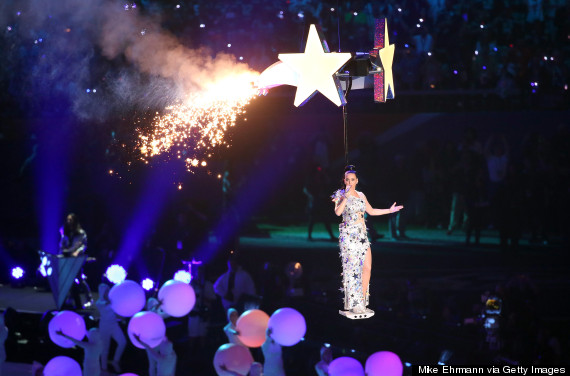 Still, with thunderous applause, it's hard to deny the power of Perry or that she brought the house down with her energetic rendition of her biggest — and Missy Elliott's biggest — hits.
That half-time show! 👏👏 @katyperry you rocked it!! #HalftimeShowKatyPerry

— Britney Spears (@britneyspears) February 2, 2015
Perry was first rumoured to helm the Super Bowl halftime show back in Aug. 2014, before the news was confirmed in November.
Did Perry score an entertainment touchdown with her performance? Sound off in the comments below.
ALSO ON HUFFPOST: