Katy Perry didn't jump the shark with her Super Bowl halftime performance, but she made sure to dance with two of them during the "Teenage Dream"-"California Gurls" vignette.
As for her game day attire? It looked more than a little familiar.
Perry rocked four different Jeremy Scott creations for her biggest show to date, starting with an elbow-length two-piece fiery look that resembled Guy Fieri's infamous Hawaiian t-shirt. Others online drew comparisons between her starting ensemble and Will Ferrell's get-up from the 2007 film "Blades of Glory," yet that didn't stop Perry from hitting her marks — and her notes — while on top of a 12-foot-tall metallic and mechanical lion.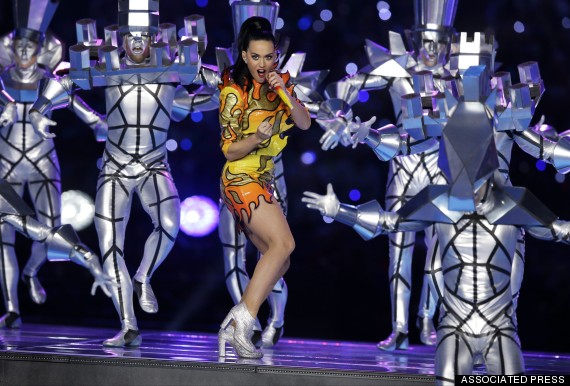 Who wore it better?

Guy Fieri vs. katy Perry

#SB49 pic.twitter.com/QHLbt7ub0T

— HuffPost Canada (@HuffPostCanada) February 2, 2015
But, since Perry then rocked out with Lenny Kravitz, it didn't take long for fans to compare her ensemble to what Jennifer Lawrence's Katniss Everdeen wore in "The Hunger Games" as the girl on fire. This was particularly prudent as Kravitz played Cinna, Katniss' stylist, in the film franchise.
Who wore it better?

RT for Katniss Everdeen

Fav or Katy Perry pic.twitter.com/1StSHqbWDN

— Jonathan Guaetta (@JonathanGuaetta) February 2, 2015
Next up, Perry channelled her inner "California Gurl" for a beach ball-inspired look which borrowed its colour palate from an episode of "Spongebob Squarepants."
Here's Katy Perry pointing at a beach ball pic.twitter.com/yaUMBXr982

— CJ Fogler (@cjzero) February 2, 2015
KATY IS LITERALLY COPYING SPONGEBOB pic.twitter.com/JVZdQZ1qba

— Spencer Althouse (@SpencerAlthouse) February 2, 2015
Always fun and flirty, Perry kept it light before dancing with Missy Elliott under a black light in an over-sized black-and-white "49" jersey to commemorate Super Bowl XLIX.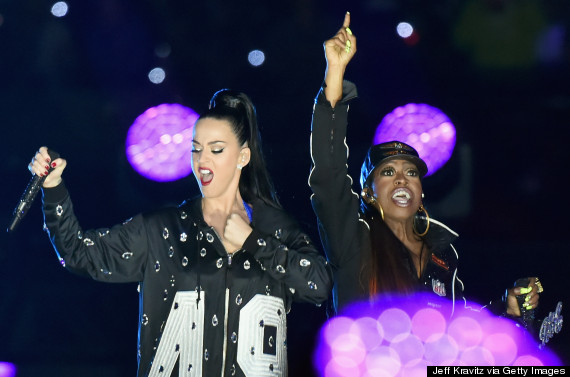 For her finale dress, the 30-year-old singer rocketed through the sky on a shooting star platform in a floor-length silver gown, complete with a sheer midriff panel, thigh-high asymmetric slit and an assortment of metallic star appliqués. However, the combination of the colour of the star apparatus and Perry's movement through the sold-out crowd was quite similar to NBC's "The More You Know" public service announcement campaign. This connection also prompted "#themoreyouknow" to trend in Canada.
February 2, 2015
#themoreyouknow is now trending in Canada http://t.co/oLlm56tSQi

— Trendsmap Canada (@TrendsmapCanada) February 2, 2015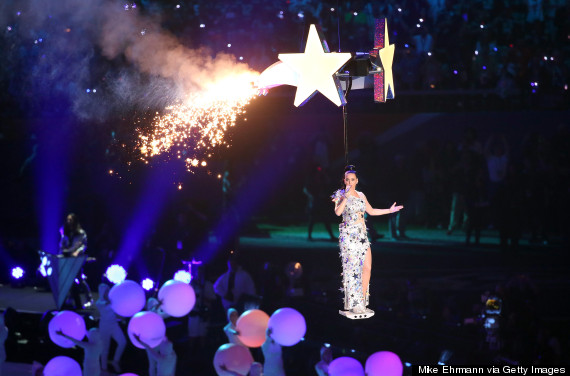 With all of these viral moments, Perry brought it to the Super Bowl in the style department. More commercial than avant-garde, her playful fashion brightened up the stage and showed off her larger-than-life persona, even if none of the looks were particularly risky or against-type.
Which @katyperry #SuperBowl halftime look did you like best? #etalk #KatyPerry #Halftime pic.twitter.com/VFacNwoClW

— etalk (@etalkCTV) February 2, 2015
What was your favourite Katy Perry Super Bowl look? Sound off in the comments below:
ALSO ON HUFFPOST: