Mortgage markets growing riskier
Toronto in for a 'cooling' this year
Canada's housing markets will cool this year, leading to a more "balanced" economy -- one that is not as dependent on growing consumer debt, the International Monetary Fund says.
In a report released Friday, the IMF estimated house prices are overvalued by 7 to 20 per cent, with "significant regional differences" in the amount of overvaluation.
"Canada's housing market rebounded in 2014, fueled by low and declining interest rates, although there are some welcome signs of cooling especially in overheated markets," the IMF report stated.
"Welcome" because the IMF sees risk to Canada in growing household debt. The organization is worried that the country's economy continues to rely too heavily on consumer debt, and that the kind of debt Canadians are taking on is riskier than it used to be.
In a report last fall, the IMF noted that uninsured mortgages are growing at a rate of 10 per cent per year, and account for the "bulk" of new mortgages issued.
Other research has also suggested that mortgage lending may be getting riskier. The share of subprime mortgages in Canadian markets has hit a record high, albeit at a relatively low 2.2 per cent of all mortgages.
The latest IMF report describes the risk to the financial system from excessive debt levels as "elevated but contained," thanks to Canadian banks' large cash reserves and government-backed mortgage insurance.
But despite its concerns about debt, the IMF backed the Bank of Canada's move, saying it would give a much-needed boost to the export sector. It recommends "targeted" financial policies aimed specifically at the housing market to keep it from overheating, including tighter rules for uninsured mortgages.
Toronto condos headed for 'moderate slowdown'
One of the markets generally identified as being among the most overheated is Toronto, where overall house prices have been rising at nearly double-digit rates over the past year. But at least in the condo segment, those days could be over.
Condo market research firm Urbanation is predicting a "moderate slowdown" for the city's long-growing condo segment, the Globe and Mail reports.
"While plans can change quickly with market conditions, it can be said that the industry doesn't appear to be gearing up for a banner year in 2015," the Globe quoted Urbanation senior VP Shaun Hildebrand as saying.
The research firm expects condo sales to fall to 18,500 units this year, from around 21,600 in 2014. There were another 52,446 units under construction as of the end of last year, down from some 59,000 at the end of the previous year.
Looking back, Urbanation named 2014 the third-best year for condo sales in Toronto, with sales booming 51 per cent, from a 10-year low in 2013. Prices grew by 3.6 per cent.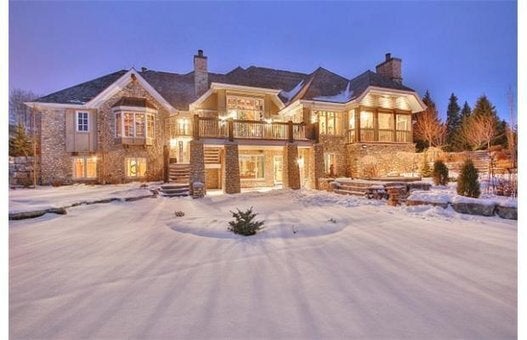 Nicest Homes For Sale In Canada In 2014