TV ratings for NHL games are in free fall this season, and part of the reason appears to be viewers cutting their cable cords and switching to digital and mobile to get their hockey fix.
But that's not where Rogers — which owns the rights to NHL broadcasts in Canada — is laying the blame. Instead, the telecom giant is pointing the finger at Numeris — the ratings agency that measures TV viewership.
"We have been in discussions with Numeris for some time about the reporting of both regional and national sports viewing," said Scott Moore, president of Sportsnet and NHL Properties at Rogers, as quoted at the Globe and Mail.
"As you probably know, several sports properties seem to be down, which is contrary to what we are seeing south of the border."
For its part, Numeris said it hasn't found anything wrong with the numbers, but will continue to monitor the situation.
Some rival executives ridiculed Rogers' assertion, suggesting the telecom is trying to shoot the messenger.
"Are we to believe that there's an inherent bias exclusively for NHL viewers?" CTV sports and entertainment president Phil King asked, as quoted at Yahoo! News.
"It doesn't seem to affect baseball or football, but NHL hockey. That's just silly. It appears there's only one company in Canada that believes this."
In December and January, Eastern Conference NHL games' ratings were down 6 per cent from a year earlier, to 1.696 million viewers, while Western games were down a full 19 per cent, to 765,000 viewers.
The Globe notes that some of the reduction is probably due to how utterly bad the Toronto Maple Leafs have been this season, but there seems to be more to it than that.
So if it isn't a case of ratings being incorrectly measured, as Rogers implies, then what's happening?
The survey found that the percentage of Canadians who follow the NHL on TV fell to 44 per cent in December of last year, compared to 50 per cent a year earlier. Meanwhile, those who followed the NHL on a digital, social or mobile platform grew to 26 per cent, from 23 per cent.
"The problem lies in the fact that the TV drop is bigger than the digital increase," SRG president Kaan Yigit wrote.
Yigit said the CFL faces the same issue as the NHL: Twenty-five per cent of survey respondents said they followed the CFL on TV in 2014, compared to 30 per cent a year earlier.
The difference is more pronounced when looking at age groups. Only 31 per cent of Canadian Millennials said they watch NHL games on TV, compared to 56 per cent of the older Baby Boomer generation.
"This points to a profound change in sports viewer culture for that generation where short snippets, Vines and updates on social media are essentially becoming substitutes in some cases for the actual game on TV," Yigit wrote.
But Millennials also appear to be less interested overall in hockey than their parents — potentially a bad sign for the future of the NHL. While 58 per cent of Boomers say they follow the sport on any medium, only 46 per cent of Millennials say they do.
That could prove to be a problem for Rogers, which — as the Globe reported — had been selling advertisers on a 20-per-cent jump in viewers.
Despite it all, Rogers says its $5.2-billion, 12-year contract to broadcast NHL games is not a bust.
"Actually, NHL's doing very well for us, we're very pleased with the execution of it thus far, and excited as we go through the rest of the reason," Rogers CEO Guy Laurence said on an earnings call last week.
"From a financial perspective it's bang-on to the expectations we had when we made the pitch for the deal and signed the it almost a year ago," Rogers CFO Tony Staffieri said, as quoted at Cartt.ca.
"In the fourth quarter alone, revenue came in at just under $100 million. We were expecting $100 million in our plans and we were within spitting distance of that."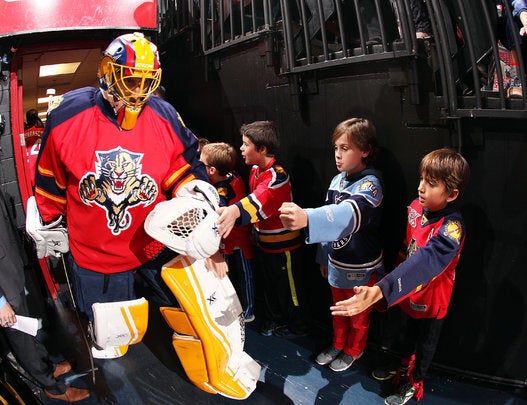 NHL Teams: What They're Worth