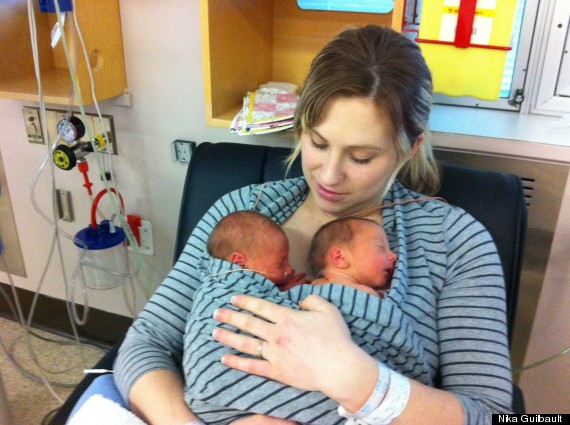 A B.C. mom says she was too busy to be worried when the twins she was carrying decided it was time, as her husband sped down the highway toward the hospital in Kamloops.
Nika Guilbault lives in Sorrento, B.C. about an hour's drive from the hospital. When she realized she was going into labour, Guilbault, 28, says she and her husband Chris St. Jean fired up the pickup truck.
A half hour into the trip, the twins Guilbault was carrying decided they couldn't wait to see their mother.
"It wasn't 30 minutes and I was in full labour and started to deliver my first child and pretty much had to deliver her as my husband was driving." 
Guilbault was sitting in the passenger seat of her husband's pickup truck when her daughter Nevada arrived.
"I was just dealing with the situation and as soon as she came out, I grabbed her," Guilbault said. "I had her breathing, gave her two little puffs of air and she got breathing right away and I just wrapped her up in a blanket in my shirt and tucked her in there as I was waiting for the second one, hoping to make it to the hospital on time."
Her son Hunter came next.
"Just as we were getting into the hospital, as we were pulling in, my water broke and I was starting to deliver my second one and when we got to the parking lot he was all the way out, feet first, except for his head,"Guilbault said.
She says doctors helped her finish delivering Hunter in the hospital parking lot.
"And took him in and got him breathing, because he had the cord around his neck once...and so yeah...everything worked out well...luckily."
Guilbault says being raised on a farm probably helped her deal with the situation.
"Growing up on a farm and delivering baby animals and knowing sort of what has to be done and the whole process of it, it didn't bother me that much. I just knew what was happening and I just had to deal with it."
Guilbault says panicking wouldn't have helped. The doctors, she says, were more surprised than her.
The twins are doing well says Guilbault.
She has named her daughter Nevada Sienna and given her son Hunter, the middle name of Dodge...and nicknamed them...the Dodge twins.
ALSO ON HUFFPOST: