Feel like a venti beer? Or how about a glass of wine instead of that skinny mocha?
Starbucks is set to change the rules of the Canadian coffee shop game with the introduction of beer and wine to some of its stores.
So said Starbucks Canada president Rossann Williams, in an interview with the Toronto Star. The booze menu will roll out in Toronto locations and in other big cities by the end of the year.
It's just part of an overhaul of Starbucks' Canadian menu that will also see the coffee chain offer tapas and other new food offerings, as well as delivery — a move that, if successful, could shake up the market.
It isn't just in Canada. Starbucks announced chain-wide plans for delivery and alcohol sales in its locations last year.
"Imagine the ability to create a standing order of Starbucks delivered hot to your desk daily," Starbucks CEO Howard Schultz said. "That's our version of e-commerce on steroids."
Starbucks has been experimenting with selling booze for some time, first launching alcohol sales at a Seattle location in 2010.
"We've tested it long enough in enough markets — this is a program that works," COO Troy Alstead said last year.
Other changes to Starbucks in Canada will include a mobile app that will allow customers to bypass line-ups; customized carbonated beverages; and more drive-through locations on Ontario's busy highway 401.
It's all part of an effort to counter flat coffee sales, the Star reports.
Though Canada is widely believed to be Tim Hortons country, Starbucks actually has its largest per-capita presence here. There are nearly 40 Starbucks locations per one million people in Canada, more than anywhere else, including in the chain's home country, the U.S., where it has about 36 locations per million people.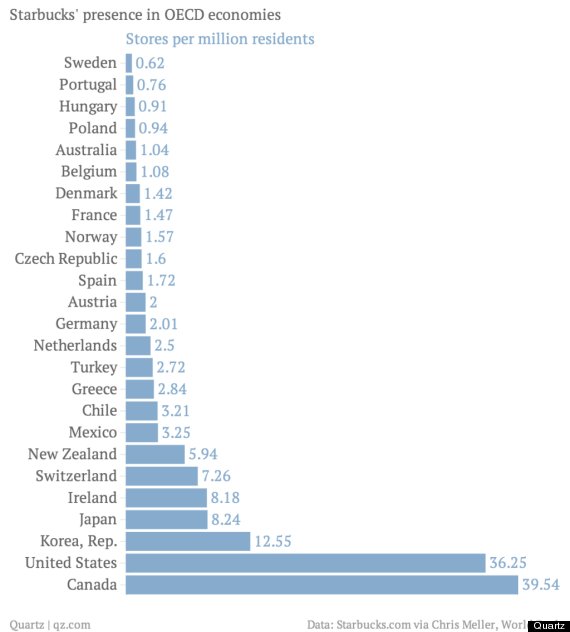 Also on HuffPost: