There's only one logical way to beat winter blues induced by extended commutes, frostbites and snow-covered driveways: a giant snowball fight.
University of Toronto students organized a massive snowball fight Tuesday afternoon at the school's downtown Toronto campus in hopes of overcoming cold weather and exam stress.
About 400 students came out, hoping to break the world record for the world's largest snowball fight, currently held by a 2013 Seattle event which had 5,834 participants, according to The Globe and Mail.
While no record was broken, students certainly had a great time. They took to social media posting photos and videos using the hashtag #UofTSnowBattle.
#UofTSnowBattle WAS FUCKING AWESOME!!! THANK YOU TO EVERYONE WHO PARTICIPATED IT WAS EPIC!!!! pic.twitter.com/lgrgcTiOIn

— فرشته (@FRESHLIKEFRISH) February 4, 2015
"@UofTStudentLife: "@CTVToronto: Fight! Hundreds take part in organized snowball fight #UofTSnowBattle pic.twitter.com/j4Be8iysiD" #joyatUofT"

— ʍadinaaa (@_Madinaaaa) February 3, 2015
Some students took things to another level, using strategies to protect themselves from oncoming snowballs while still hitting others.
One student used an umbrella.
This guy is taking things very seriously. #UofTSnowBattle pic.twitter.com/vergvY0Ojw

— Rhianna JK (@RhiannaJK) February 3, 2015
Another protected himself using his lab coat and goggles. Clever.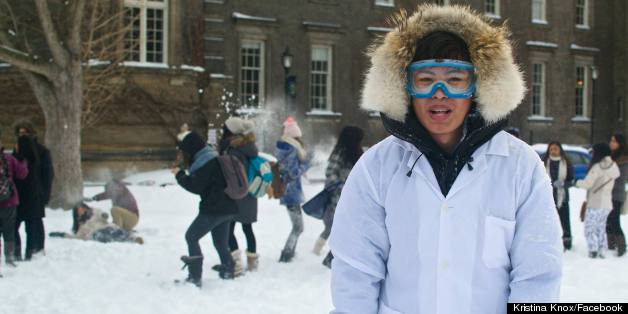 But it wasn't all fun and games, at least not for CTV News reporter Scott Lightfoot, who got caught in the centre of the fight during his standup.
Dangers of doing TV standup covering giant snowball fight. #UofTSnowBattle. @slightfootCTV http://t.co/gflZ9AfwAF pic.twitter.com/NQnBQ8zVTL

— Simon Ostler (@SimonOstler) February 4, 2015
Once the event was over, organizers Madina Siddiqui and Frishta Bastan took to Facebook to thank students who attended, especially those who showed up with hot chocolate and music. Siddiqui also promised the snowball fight would now be an annual event.
Ah, university life.
ALSO ON HUFFPOST: