April Fahr
On the same day in B.C., a pit bull cross mauled a 16-day-old baby in Saanich, while two other pit bulls attacked a senior outside a Langley store. The stories raised eyebrows and renewed debate over the canine breed.
It was late December 2014, and April Fahr just shook her head yet again. The executive director of HugABull, an advocacy and rescue society based in Metro Vancouver, is used to seeing dog attack stories that highlight the breed more than the animal's upbringing or environment.
"The media has a history of getting a lot more of a reaction when they run a pit bull story versus a St. Bernard story," Fahr said in an interview with The Huffington Post B.C. She quickly pointed to a 2013 study by the Journal of the American Veterinary Medical Association (JAVMA).
"Breed is not a predictor of how often (a dog bite is) going to happen or how bad it's going to be," said Fahr, summarizing the report's findings.
"The predictors are always: how was the dog bred, how was the dog raised, how was the dog managed? What were the circumstances and the environment around the incident?"
Follow-up stories revealed that Buck, the male canine in the Saanich incident, had been declared a dangerous dog under local bylaws because he had an aggressive history, including biting another dog, reported The Times Colonist.
The owner, Paul Gill, had been ordered to keep Buck in a locked cage in the yard, and to leash and muzzle him when he was being walked. Neighbours told the newspaper Gill often did not comply.
Police also said someone who lived in the home where the baby was attacked had a conviction for possessing drugs for the purpose of trafficking, reported Global News.
Saanich police are still looking at possible charges of criminal negligence, said Sgt. Steve Easssie in an email. The owner agreed to have Buck euthanized after the attack.
Nature vs. nurture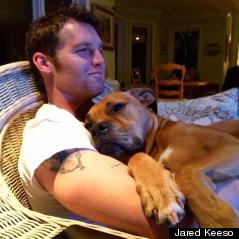 Vancouver actor Jared Keeso, who owns a pit bull-boxer cross named Gus, agreed that there needs to be more emphasis on how a pit bull is raised.
"Pit bulls need less idiots breeding them and then selling them to other idiots," he told HuffPost B.C. "Buying a puppy is bringing a beating heart into your home. Like a child, you need to monitor them and make adjustments based on their energy level, temperament, and bad habits."
Keeso, who played Don Cherry in a CBC biopic, recently organized a calendar called "Babes & Bully Breeds." It raised $3,000 for HugABull, which is a registered charity that serves all of B.C.
"I was living in an apartment with my-then girlfriend and my dog. One is a babe. The other is a pit bull. They made an extremely attractive pair," Keeso told The Huffington Post B.C.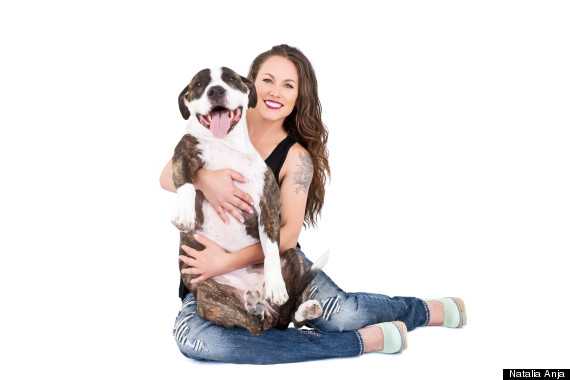 The 'Babes & Bully Breeds' calendar was created by Jared Keeso and Lords of Gastown Clothing. Hair and makeup by Shelley Ainsworth. (Photo: Natalia Anja)
The breed's popularity is growing as an increasing number of celebrities including Jennifer Aniston and Channing Tatum adopt pit bulls as pets. HugABull works on matching rescue pit bulls with "the right kind of loving, responsible home" — as well as defending the dog's reputation.
Attacks by pit bulls outnumber those by any other breed in Canada and the United States, according to Merritt Clifton, editor of Animals 24-7. Based on news reports, he maintains a website that tallies the number of deaths and injuries caused by dogs.
His data shows that pit bulls were responsible for 2,110 maimings and 295 deaths between 1982 to 2014, compared to next closest breed, the Rottweiler, which was cited in 85 deaths and 296 maimings.
The pit bull's reputation for being a vicious, aggressive dog comes from its origins as an animal bred to bite and hold bulls and bears, according to the SPCA in the U.S. Later, they were used to fight other dogs.
Today's "pit bulls" are often a result of random breeding, which the animal welfare group argues dilutes the influence of genetics predisposing a dog to behave a certain way.
"When it comes to influencing the behavior of an individual dog, factors such as housing conditions and the history of social interactions play pivotal roles in behavioral development," it says in a position statement on the breed.
There's also the matter of whether or not you can even recognize a true pit bull these days, calling the accuracy of attack statistics into question.
The JAVMA study concluded that breeds of dogs "could not be reliably identified in more than 80 per cent of cases. News accounts disagreed with each other and/or with animal control reports in a significant number of incidents."
Pit bull bans
Governments in Canada and the U.S. have tried to legislate pit bull ownership over the years.
In Canada, Manitoba implemented a pit bull ban in 1990, with Ontario following suit in 2005. People who owned pit bulls before the bans were allowed to keep them as long as the animals were spayed or neutered.
The number of dog bites in both provinces has dropped.
The B.C. municipalities of Burnaby, West Vancouver, and Richmond have breed-specific bylaws that charge higher licensing fees and fines for "vicious" dogs.
But in the U.S., 19 states have overturned breed-specific legislation in recent years, citing new evidence like the JAVMA study that no breed is more dangerous than another, and that breed identification is often unreliable.
Groups including the U.S. Humane Society and the American Bar Association, as well as President Barack Obama, have come out against breed-specific laws because they're ineffective and don't increase public safety, reported The Washington Post.
They, like HugABull, believe the onus should be on pet owners.
"We're not about, 'Everybody should have a pit bull and everybody should love pit bulls.' We actually feel that the standard should be very high for every owner, and every dog," said Fahr.
And, she adds, don't judge a dog by its cover: "At the end of the day, it's like people: You can't assume because someone looks a certain way they're going to act a certain way."
Like Us On Facebook

Follow Us On Twitter
ALSO ON HUFFPOST: