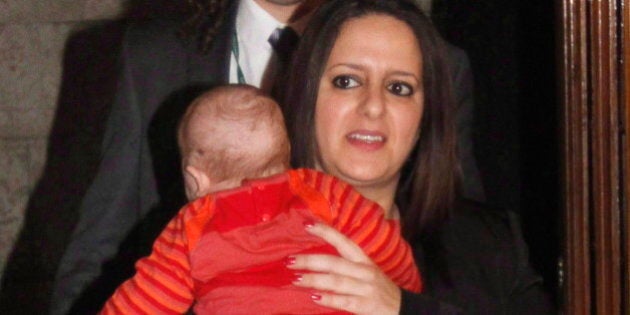 TORONTO — A handful of ex-NDP MPs could be forced to dig into their personal savings to repay some of their former party's illegal expenses.
MPs, such as Jean-François Larose, Claude Patry and Sana Hassainia, now find themselves on the hook for tens of thousands of dollars in backdated NDP expenses. The three MPs left the NDP over philosophical differences and either created a new political party, joined the Bloc Québécois or sat as an independent.
On Friday, the NDP signalled that it has no plans to help them.
"There is certainly nothing to tell them to do, as they aren't caucus members," NDP spokeswoman Greta Levy told The Huffington Post Canada. "So in terms of what happens to them, I expect they're the only ones in a position to comment on that."
On Tuesday, the House of Commons' Board of Internal Economy announced that it would seek $2.75 million from 68 MPs who diverted money from their own office budgets to fund NDP satellite offices. The board ruled in August that New Democrat MPs had inappropriately used taxpayer resources to employ staff in party offices in Quebec City, Montreal and Toronto.
Since the staff were not working in a parliamentary office or a constituency office, the board said the use of Commons resources for employment, telecommunication and travel expenses broke Commons bylaws. This week, the board — which is made up of representatives of the Conservative, NDP and Liberal parties — sent letters to all the MPs, who had pooled their office budgets to pay for satellite office staff, seeking reimbursement for those funds.
Larose, a Quebec MP who owes $15,299, told The Huffington Post Canada he hasn't heard anything from the NDP or the board on the matter but expects the New Democrats to take care of the matter.
"I don't know what they are going to do, but we'll see," he said in French. "If they are a party that is a team player … it will be up to them to show it. If they are focused on themselves entirely, well, they'll show that too…. But this is their problem. I expect them to do the right thing, in the right way."
Larose, who now sits as an MP for the Quebec-based Force et Démocratie party, said he doesn't know whether the NDP misled Commons administrators in portraying where the staff would be based.
"I left the NDP because I was a backbencher, and generally we didn't know much of anything."
He said the staff whose salaries his office helped fund assisted with parliamentary work such as writing newsletters and pamphlets that were sent to his Repentigny riding.
"[It was made clear that] our participation was within the rules and that this was the intention," he said.
Assistants for Patry, who owes $14,081, and Hassainia, who is on the hook for $26,754, told HuffPost that the two MPs had not received letters and that they weren't sure what actions they would take. Both said they had not heard from the NDP.
Ontario NDP MP Dan Harris, who received a bill for $141,467 on Friday, told HuffPost he thinks the board made a partisan decision in an effort to tarnish the NDP's reputation. Harris said he hadn't been told by his party's leadership what to do but that he suspected that would happen once all the invoices were received.
This week, NDP house leader Peter Julian told reporters the party is moving forward with its federal court request to get a judge to review the matter. The NDP had suspended its request in November so its lawyers could try to negotiate a settlement. The board argues that the court has no jurisdiction.
Here is the complete list of refunds the board is seeking from current and former NDP MPs:
Robert Aubin: $30,158
Paulina Ayalu: $29,280
Tyrone Benskin: $31,888
Denis Blanchette: $31,888
Lysane Blanchette-Lamothe: $29,842
Françoise Boivin: $24,498
Charmaine Borg: $22,807
Alexandre Boulerice: $122,122
Marjolaine Boutin-Sweet: $24,259
Tarik Brahmi: $22,953
Ruth Ellen Brosseau: $30,959
Guy Caron: $64,916
Andrew Cash: $1,288
Sylvain Chicoine: $31,069
François Choquette: $24,216
Former MP Olivia Chow: $1,288
Raymond Côté: $31,064
Anne-Marie Day: $35,430
Pierre Dionne Labelle: $26,812
Rosane Doré Lefebvre: $29,551
Matthew Dubé: $30,727
Pierre-Luc Dusseault: $26,805
Mylène Freeman: $30,301
Réjean Genest: $21,380
Jonathan Genest-Jourdain: $31,788
Alain Giguère: $28,794
Sadia Groguhé: $29,836
Dan Harris: $141,467
Now Independent MP Sana Hassainia: $26,754
Pierre Jacob: $31,051
Matthew Kellway: $1,288
François Lapointe: $30,364
Jean-François Larose: $15,299
Alexandrine Latendresse: $31,888
Hélène Laverdière: $24,216
Hélène LeBlanc: $27,866
Laurin Liu: $29,845
Hoang Mai: $30,739
Christine Moore: $31,793
Dany Morin: $28,152
Isabelle Morin: $169,117
Marc-André Morin: $25,690
Marie-Claude Morin: $30,023
Thomas Mulcair: $7,440
Pierre Nantel: $14,911
Peggy Nash: $1,288
Jamie Nicholls: $30,740
José Nunez-Melo: $31,700
Annick Papillon: $29,266
Now Bloc Québécois MP Claude Patry: $14,081
Ève Péclet: $27,111
Now Independent MP Manon Perreault: $22,009
François Pilon: $31,874
Anne Minh-Thu Quach: $30,727
Francine Raynault: $27,952
Jean Rousseau: $142,548
Romeo Saganash: $35,600
Craig Scott: $1,288
Djaouida Sellah: $29,841
Rathika Sitsabaiesan: $1,288
Mike Sullivan: $1,288
Philip Toone: $31,069
Jonathan Tremblay: $30,739
Nycole Turmel: $15,161
NDP House Leader: $189,714 (Amount to be shared between Joe Comartin, Nathan Cullen and Peter Julian)
NDP Party Leader: $408,573 (Amount to be shared between Turmel and Mulcair)
NDP Whip: $35,633 (Amount to be shared between Chris Charlton and Turmel)
Total: $2,749,362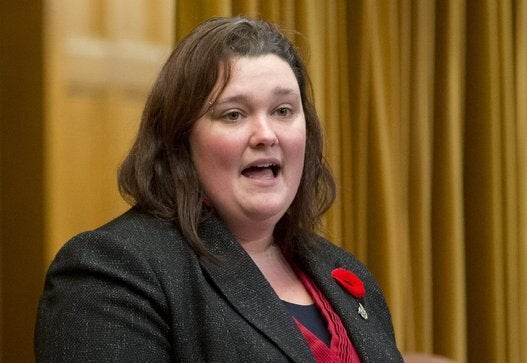 New Democrats Who Owe Most For Satellite Office Costs