Announced layoffs in the U.S. energy industry have hit a record high of more than 20,000, according to a new analysis from the Bank of Montreal.
But BMO senior economist Sal Guatieri says the total job losses could be much higher than that -- up to 60,000 in the U.S. this year.
The U.S. economy is expected to create 2.7 million jobs this year, "swamping the oil and gas losses," Guatieri says, but Canada may not be so lucky. The country has seen lacklustre job growth and has recently seen downgrades to economic growth this year, thanks to falling oil prices.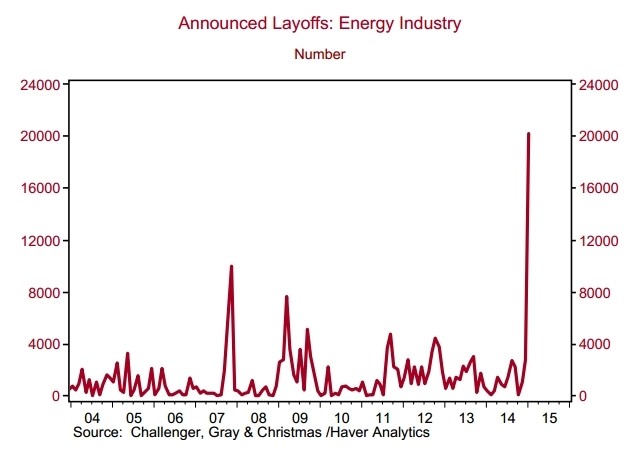 The U.S.'s shale oil fields and Canada's oilsands are among the most expensive oil-extraction industries in the world, and are largely considered among the most vulnerable to a price shock.
Citigroup had more bad news for the industry Monday, predicting that oil prices could fall as low as US$20 per barrel, thanks to high levels of production and growing stockpiles, and the shock could mean the effective "end of OPEC."
"It's impossible to call a bottom point, which could, as a result of oversupply and the economics of storage, fall well below $40 a barrel for West Texas Intermediate (WTI), perhaps as low as the $20 range for a while," Citigroup commodities head David Morse wrote, as quoted at the Economic Times.
Morse added that "it looks exceedingly unlikely for OPEC to return to its old way of doing business. … While many analysts have seen in past market crises 'the end of OPEC,' this time around might well be different," Morse said, as quoted at Bloomberg.
The International Energy Agency had a more optimistic forecast for oil prices this week, saying they're expected to bounce back soon, though they won't return to the $100-plus levels seen last year anytime soon.
The IEA says Canada's crude output is expected to grow between now and the end of the decade, but not by as much as previously thought.
In its latest report, the Paris-based organization predicts Canada's production will grow to just under five million barrels a day by 2020, about 810,000 barrels a day more than in 2014.
However, that is 430,000 barrels a day less that it previously forecast.
-- With files from The Canadian Press
Also on HuffPost: