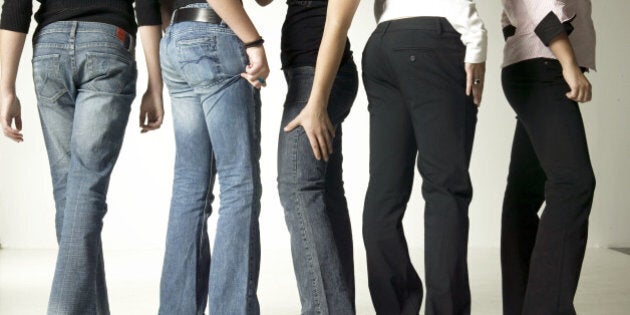 Shopping for jeans isn't easy -- with so many styles and colours to choose from, it can seem overwhelming. But don't stress, because we're here to help.
When it comes to choosing the right pair of jeans for yourself, the first thing you need to do is know your body. Not every style looks the same on every shape, so it's important to know what works and what doesn't. (Trust us, this can save you a lot of grief in the fitting room.) Whether you're tall and thin, curvy, or straight, there's a perfect pair out there for you!
Just continue reading below the slideshow for our tips on how to find the best jeans for your body type.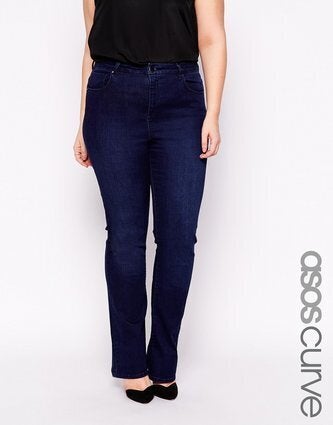 How To Find The Best Jeans For Your Body Type
If you've got an hourglass figure look for jeans that are solid in colour (a dark wash is best) as fading can actually make legs look bigger. In terms of cut, stick with something that hugs your curves but, at the same time, isn't too tight. (And that rule goes for everyone!). You can also go for a more boot cut style, as opposed to super skinny, as the extra width at the bottom can help balance out the hips.
To balance out a wider midsection while still showcasing slim legs, a pair of fitted legging jeans are great. The high stretch content results in a slim fit that hugs all the right contours. If you're looking to reduce the appearance of bulk, go for an option with faux pockets.
If you've got a straight up and down body type, a pair of looser jeans can help add the illusion of curves. But, if you'd prefer to go skinny, balance out the tight fit with a loose-fitting top. You can also try a boot cut or slightly flared style to create the look of a curvier silhouette.
Opt for a moderate rise about eight to nine inches from crotch to waist. The waistband should sit comfortably just below your belly button for the best coverage. If you want to make sure everything stays, well, tucked in, look for jeans with a wide waistband and a bit of stretch, which can provide a subtle shapewear effect.
If you've got a petite frame, stick with jeans that are slim-cut, such as skinnies or boot cut. And if you're looking to create the illusion of height/length, a pair of high-waisted bottoms is great.
For women with athletic body types, we'd suggest going for a pair of jeans in a dark, solid wash that also have a bit of stretch. That way, curves will be hugged in all the right places and you won't get unwanted sagging. For the most flattering effect, a pair of jeans that are flared from the knee down can balance out muscular thighs.