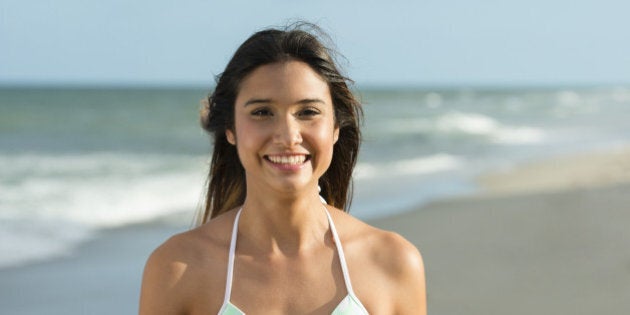 Yes, we realize it's the dead of winter but summer swimwear is already being stocked in shelves and it's now officially impossible to concentrate on winter fashion when that adorable one-piece is practically taunting you with visions of sandy beaches.
If you're one of the lucky ones, you may actually have cause to purchase or at least browse the newly minted swimsuit section. February tends to be a busy month for tropical excursions and that snowbank the size of Everest says we don't blame you for bolting down south.
Whether you're in the market for a new swimsuit or just antsy for a taste of summer's warm embrace, here's a premature look at the first wave of swimwear to hit stores.
Find our our top picks below the slideshow: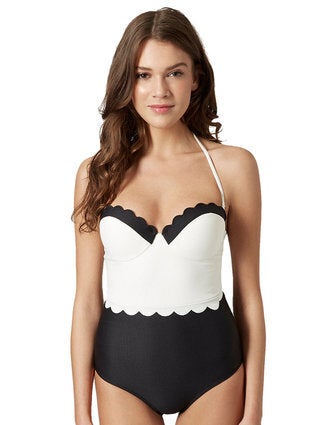 Tell us you wouldn't be charmed by a girl wearing this textured monochromatic one-piece? The scalloped edges give it added whimsy for the girl looking for something conservative without sacrificing style. We envision bold red lips and big vintage frames to complete the look.
We predict cutouts are going to be a leading trend once swimwear is out in full force. We love this simple black halter with bright yellow piping from Agent Provocateur in collaboration with sisters Mónica and Penélope Cruz.
Triangl's signature geometric design is easily recognizable. The Australian-based line has managed to nail a design concept that will please those looking for something with high style and those who want something sporty. The swimwear brand has a laundry list of celebrity fans like Kendall and Kylie Jenner, Miley Cyrus and even Queen Bey, among other high-profile endorsements.
Fringe is in so it's no real surprise that this year's offerings will include a lot of this fun, flirty detail. Victoria's Secret offers this bandeau style fringe bikini in a variety of colours and patterns. Pick matching or contrasting bottoms, or maybe just buy it all!
In the realm of swimwear, it doesn't get much better than Australian label, Zimmermann. Their unique designs range from athletic to sassy and sophisticated. There's something for everyone and we're particularly fond of this fun floral bikini in bright mustard.
You can always count on Nasty Gal to be the purveyors of playful designs. Exhibit one is this sky blue one-piece with quirky gold embroidered palm trees by party girl label, Beach Riot.
The nautical look never gets old. There's something innately classic about the colour combination of navy and white. Just add some frills and polka dots for added visual interest, much like this Joe Fresh bikini we're currently coveting.
If you're a sucker for girly bows, you've probably already whipped out your credit card. The girl with classic taste and an affinity for vintage will fall head over heels in love with this LBS (Little Black Swimsuit). Did we mention it also comes in blush?
Tribal print is always a fun option if you want to achieve a bohemian look. Forever 21 offers up this two-piece with high-waisted bottoms and a corset style bikini top if you need an extra little push-up top.
The plunging neckline on this new offering from Ted Baker will undoubtedly turn a few heads. We predict a resurgence in one-pieces this summer and this linear jewel print suit is one of our favourites.