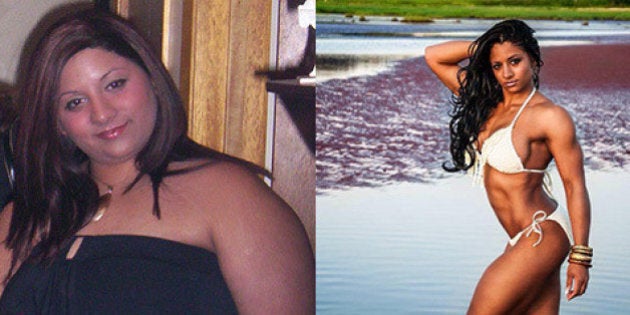 Who: Zoe Pineau, nail technician and fitness instructor
By The Numbers: 275 pounds at my heaviest, currently 125 pounds, for a total weight loss of 150 pounds.
The Weight Gain: I was athletic as a child and had a terrible diet, but my parents were not concerned because I wasn't overweight. I really started to notice the weight gain around the beginning of grade 10. I remember going shopping for school clothes and being a bit surprised by the sizes I needed.
Final Straw: I knew I had to change when I became pregnant at 26 and I wanted to set a good example for my kids. I didn't actually feel the gravity of it until my son was old enough to want to eat everything I was eating. I was going to drive-thrus all day long, and I knew at that point it was way out of control.
Story Continues Below. Check out more of our inspiring weight loss stories: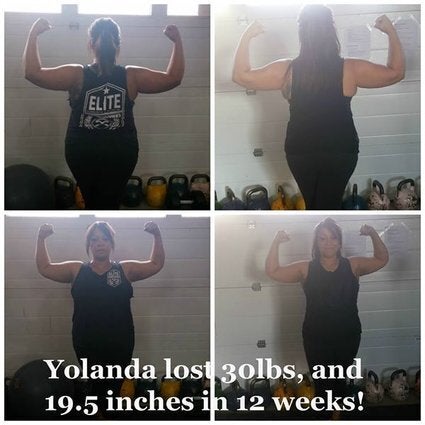 Lost It: Weight Loss Success Stories
The Plan of Attack: I started eating clean, and running at first. We had a set of weights in our basement and after a few weeks of eating well and running, I added weight-lifting. I didn't know what to do so I just did movements until I couldn't do them any more. At first I could only run for 10 minutes, but after the first month I could run for an hour!
To lose 150 pounds, it took less than a year. I truly believe this is because I did it in a complete way, I didn't just diet, or just do cardio, or just lift weights — it was a complete lifestyle change.
I started eating clean, which basically is eating all natural unprocessed foods whenever possible. I started eating six small meals a day, eating every two to three hours. I started drinking lots of water, and eating lots of vegetables. It took a long time for me to get the hang of healthy eating/cooking. I had never eaten or liked vegetables, and eating that way was very difficult at first.
The hardest adjustment was learning to live my life without making everything about food. When I was bored I had to actually find something fun that I enjoyed, rather than filling that boredom with a burger. I had to learn to go to birthday parties and say no to the cake. I had to learn to have holidays without binging on big meals, go to the movies without buying treats, and go out with friends without drinking. I think just trying to fit in to my own surroundings while trying to change my habits was the hardest part.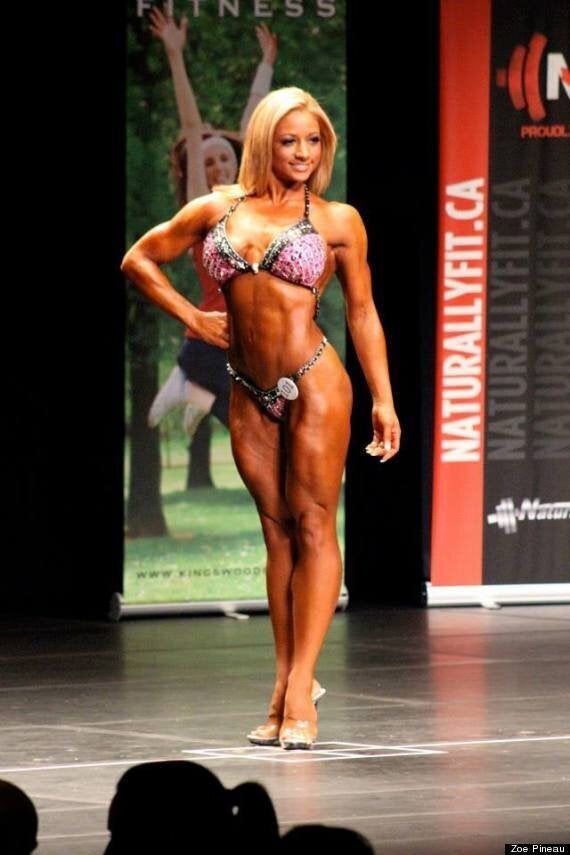 The Exercise Factor: I've had a few trainers and I've had some bad ones. One tried to discourage me from competing because I had loose skin and stretch marks, but I have been fortunate to find some amazing coaches at Togetherfit.ca (and have been a part of their competitive Team Hardbody since my first show). They have been a huge part of my transformation and have since helped me to progress over the years in my competitive career.
In terms of workouts, I went hard. I would run until I felt sick and then get back on it. I would work out in the middle of the night while my babies were asleep. I would squat until I couldn't move for 10 minutes.
The Current Day-to-Day: Today my lifestyle doesn't feel like such a struggle, and it has truly become my way of life. I feel weird when I don't exercise and I feel sick when I don't eat right. I still have cravings and I still have bad days where I binge on a whole litre of ice cream — but I genuinely don't want to do that all the time anymore.
I maintain my weight by continuing to eat clean, continuing to exercise. I have coaches year round from Togetherfit.ca, whether I'm preparing for a show or in my "off season" to hold me accountable. They have become my great friends and are one of my biggest sources of support.
I had a lot of self-doubt, a lot of doubt from others, and a lot of obstacles. But even though it seemed so impossible, I had a vision of the end goal in my head and just couldn't let it go. Now that I have done this, I truly feel like I can do anything
My advice is to take control. Make it your only mission in life. Don't go for a fad, go for a lifestyle change. It is hard but you can do it, it's just a matter of DOING IT! Hire a great trainer to help you if you need it and really make yourself a priority.