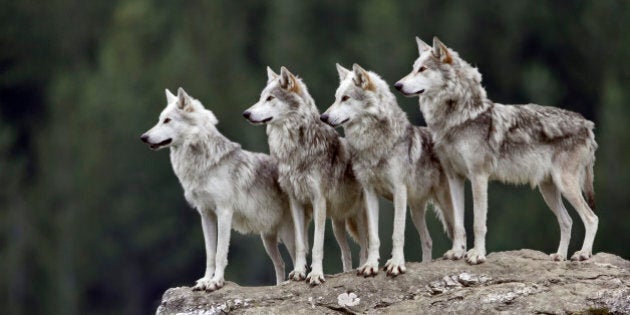 The point man for the British Columbia's effort to save endangered mountain caribou says a controversial wolf cull will likely be necessary for the next five years.
Assistant deputy minister Tom Ethier told CBC News the 180 wolves being shot from helicopter in the South Peace and South Selkirk regions this winter are just the beginning.
"We've been pretty clear this is a five-year project," Ethier said. "We're going to do be doing this for the next five years. At the end of those five years, we're going to do that analysis as to whether this effort was worth it."
Ethier says the exact number of wolves killed in subsequent winters will depend on how quickly they repopulate the areas they're removed from.
"The purpose and the hope is that we are able to remove nearly all the wolves in these areas where we are trying to recover caribou," Ethier said.
In B.C.'s northern Rocky Mountains, four of seven mountain caribou herds are on the verge of being wiped out, with just 70 animals among them.
The southernmost herd in the Selkirk region has fallen to 18 from 46 animals five years ago.
While habitat destruction and human encroachment are the primary causes of the caribou's demise, authorities say predation by wolves is thwarting recovery efforts.
In the South Peace area last spring, 10 pregnant caribou from the Moberly herd were captured and put in a specially constructed pen to keep them safe while their calves were born. But when the animals were released in July, the wolves were waiting, killing one adult caribou and three of the calves.
The B.C. government says as part of its caribou recovery plan, roughly 90 per cent of the herds' high-alpine habitat will now be protected from industrial development. "All economic activity will be done with a mind to caribou. We're focused on having a light footprint in that area," Ethier said.
Critics have vigorously condemned the wolf killings, saying the evidence suggests such culls are ineffective and cruel. So far, more than 158,000 people have signed an online petition by the group Pacific Wild opposing the cull.
A group calling itself Wildlife Defence League has been trying to track progress of the shootings, sending a team of "observers" to the Mackenzie and Chetwynd areas, near the site of the threatened herds.
"It's a scientifically flawed policy," spokesman Tommy Knowles told CBC News. "Killing one species to save another flies in the face of conservation and fails to acknowledge the true reason behind the declining caribou."
The Alberta government conducted a similar cull of wolves starting in 2006 that resulted in almost 1,000 animals being killed.
Opponents claim caribou numbers there showed no sign of improvement afterward.
The B.C. government won't say how many wolves have been killed so far, but Knowles's group says it knows of at least one wolf pack in the South Selkirk that has already been wiped out.
Members of the West Moberly First Nation near Chetwynd have also been helping on the ground by trapping wolves.
Band members say the government's airborne marksmen are passing on locations of the wolves shot from the air so their skins can be recovered and sold.
"Its a necessary evil," Chief Roland Wilson told CBC News. "A typical pack would run between six to 10 wolves. We've had reports of 35 [wolves] up there. And they have to eat."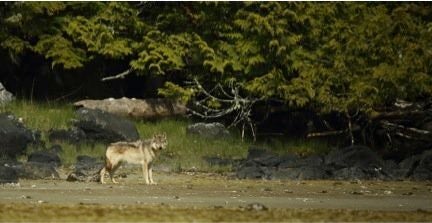 Filming Wild Wolves In B.C.