People for the Ethical Treatment of Animals (PETA) has always been very successful at recruiting celebrities to its cause.
Luminaries who have appeared nude in its "I'd rather go naked than wear fur" ads include model Christy Turlington, actor David Cross and reality star Khloe Kardashian.
And now, the organization has snagged musician Pink for its latest ad.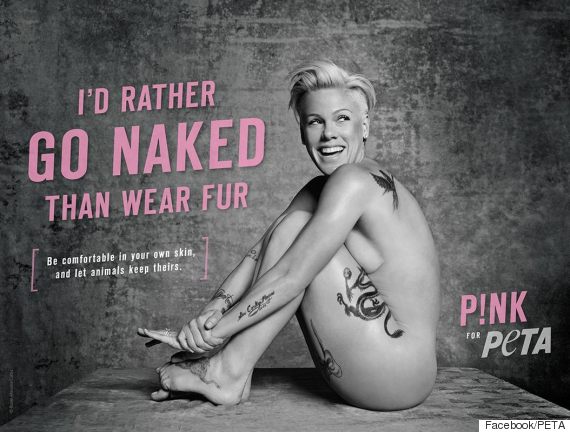 The photo in the ad, which will be unveiled on a 90-foot billboard in Times Square in New York on Wednesday, actually comes from People's 2014 Most Beautiful edition, the magazine reported.
"I went through a selfish phase and wore fur on a couple of occasions," Pink said in a news release. "But I wised up and now boycott fur completely. I wish everyone was forced to learn the horrors that these animals go through for fashion trends."
It's not the first time that Pink has stood up for animals.
In 2006, she appeared in a video calling the practice of "mulesing," or removing flaps of skin from a sheep's tail and breech, "sadistic," and called for a boycott of Australian wool over it, The Age reported.
She backtracked the following year, saying she "could have done a lot more research" into the topic. She said that PETA hadn't told her that the industry committed to phasing out the practice by 2010, and that alternatives were being looked into.
"My message was, in my mind, boycott animal cruelty — not an entire industry, not Australia, obviously, because it's my favourite country," the newspaper quoted her saying.
But that doesn't appear to have ended her relationship with PETA, which is unveiling its billboard just as New York Fashion Week begins on Thursday, People added.
Like Us On Facebook

Follow Us On Twitter

ALSO ON HUFFPOST: