JGI/Jamie Grill via Getty Images
A peanut-shaped exercise ball could decrease time spent in labour and reduce the need for a Cesarean section by as much as 50 per cent, according to nurse researchers at Banner Good Samaritan Medical Center in Phoenix, Arizona in the U.S.
"The peanut ball is a low-risk, low-cost nursing intervention that promotes positive labour outcomes and reduces the duration of the delivery process," says lead author Christina Tussey, MSN, RN, CNS, a clinical nurse specialist at Banner Good Samaritan.
Epidurals are commonly used to ease the pain of childbirth, but they can prolong labour and increase the need for C-sections, which account for more than 30 per cent of births in the U.S., according to the study.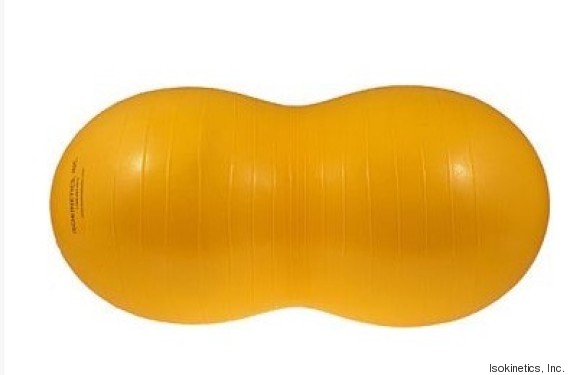 Ninty per cent of women who have had a C-section will have another the next time they give birth, says Tussey, who concluded that using a peanut ball during labour gave women a statistically lower rate of delivering by means of surgery.
Changing position during labour increases circulation, accelerates fetal descent and eases contractions, but epidurals restrict the woman's ability to move, according to the study.
Yet the peanut ball can counter the negative effects of an epidural, according to the randomized, controlled study, in which 107 peanut-ball-assisted births were observed.
By comparison against 91 births without peanut balls, the research team concluded the use of the peanut ball shortens first stage labour by 29 minutes and accelerates it by another 11 minutes in the second stage.
"Our findings show that mothers can ask for a risk-free option to help promote labour when receiving an epidural," says co-author
Emily Botsios, BSN, RN, a nurse at Banner Health. "Based on the success of the study, we have implemented use of the peanut ball in all labour and delivery units across Banner Health."
The study was published in the Journal of Perinatal Education.
Also on HuffPost
10 Bad Habits That Won't Help You Get Pregnant