It seems a mother's touch was all that was needed to convince many parents to vaccinate their children.
The post, which blamed anti-vaccination parents for creating her son's possible infection, had been shared over 280,000 times in less than four days.
And it turns out the post was enough to convince a number of parents to immunize their children against the measles.
Hibben-White told The Huffington Post Canada from her Pickering home that she's received hundreds of messages from parents who have decided to vaccinate their kids, or read "some better peer-reviewed scientific studies," or said they would discuss vaccines further with their doctors.
"It's made me very sort of verklempt about the whole situation," she said in an interview. "It's very humbling."
Hibben-White's post carried a photo of her infant son Griffin, who was potentially exposed to the measles during a weigh-in appointment on Jan. 27.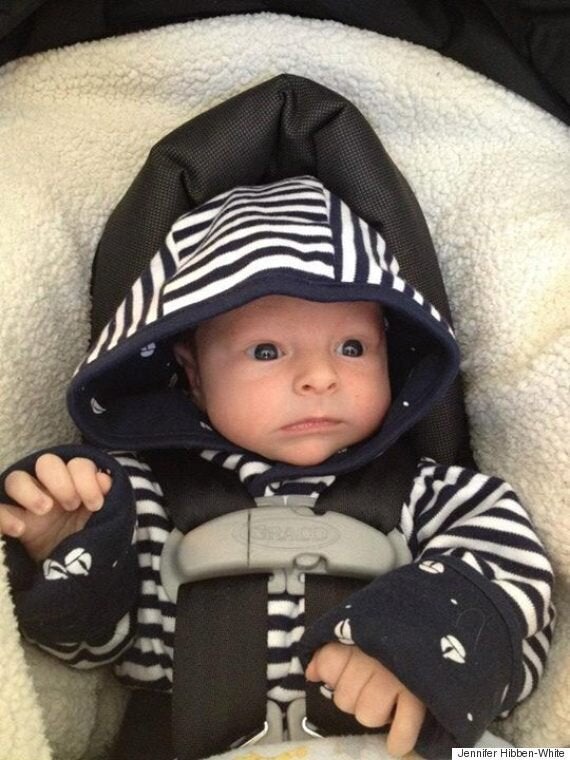 The family now has to stay home with the boy in isolation until Feb. 17 (the disease's incubation period) when they can be sure he hasn't contracted it.
In the post, Hibben-White pointed out that Griffin can't get the measles, mumps and rubella (MMR) vaccine yet (he was only 15 days old at the time of his appointment), and called out parents who have decided not to vaccinate themselves or their children.
"You know what vaccines protect your children from? Pain. Suffering. Irreparable harm. Death," she wrote. "And you would be the first to line up if you had an inkling of what the death of a child feels like."
Hibben-White found her five-and-a-half-year-old daughter Olivia dead on Boxing Day in 2012, after she contracted a series of infections.
No vaccine could have cured Olivia's illness, but Hibben-White finds it "unconscionable" that people don't accept science showing that vaccines prevent diseases that can lead to death. The World Health Organization (WHO) has pointed out that measles is a leading cause of death among young kids.
"I don't think people quite realize, most people of my generation have not lived through measles epidemics or polio," she said.
"So we become complacent, we begin to see the risks of vaccination as bigger than the risks of the disease itself."
Though overwhelmed by the response her post has received, Hibben-White is "very, very pleased" that people are taking initiative and vaccinating themselves or their kids.
As for Griffin, she said he is symptom-free, and "with every day that passes, it gets a little less likely that he is going to contract the measles."