Getty Images
With Valentine's Day coming up, certain married couples may find themselves looking into each other's eyes, and wondering how they've lasted so long together.
A UBC study may have an answer for them: idealism, and lots of it.
The Psychological Science-published study, by UBC Sauder School of Business Prof. Dale Griffin, shows that seeing your partner as "more ideal than they really are" is a secret to a successful marriage.
"Seeing your partner in an unrealistically positive light is predictive of more forgiveness and less suspicion when difficulties come up, and a general tendency to look for the best explanation of your partner's behaviour," Griffin said in a Q and A.
The research arrived at its conclusion by carrying out a "longitudinal study" of 222 couples in their first marriages. The methodology connected "unrealistic idealization at the time of marriage to changes in satisfaction over the first three years of marriage."
For the most part, it saw satisfaction fall in the marriages they studied.
But it also concluded that "seeing a less-than-ideal partner as a reflection of one's ideals predicted a certain level of protection against the corrosive effects of time."
Additionally, the study found that those who "initially" idealized their partners the most "experienced no decline in satisfaction."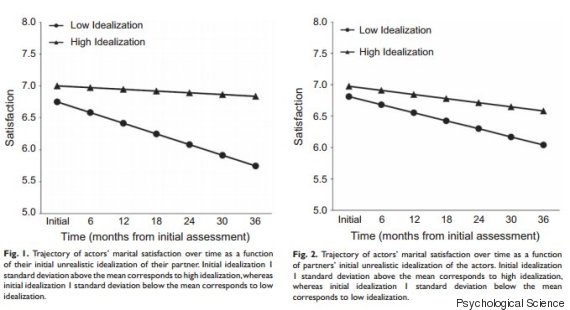 Griffin said in the Q and A that the correlation between idealism and a satisfactory marriage goes beyond simply being an optimist.
"Although there is a correlation between general self-esteem, optimism and the tendency to idealize a partner, the link between idealization and longer, happier relationships holds true for highly optimistic and less optimistic people, as well as for both men and women," he said.
Ultimately, Griffin said couples should always try to be their best selves with each other "and try to see the best in them — even when it may not be there!"
While this study encourages people to think the best of each other, other research suggests that marrying your soul mate is no guarantee that you won't divorce later.
A 2010 study out of the U.S. titled, "The State of Our Unions" actually encourages people not to be so quick to marry the ones they see as their "soul mates," or people they marry for personal, rather than practical reasons.
In fact, study editor W. Brad Wilcox found that soul mate marriages work better "when all economics are taken care of."
He added the more comprehensive "institutional model" of marriage, in which a couple marries for reasons including sex, parenthood, emotions and economics, is more likely to be sustained.
Like Us On Facebook

Follow Us On Twitter

ALSO ON HUFFPOST:
Getty Images

Getty Images

Getty Images

Getty

Getty Images

Getty Images

Getty Images

Getty Images

Getty Images

Getty Images

Getty Images

Getty Images

Getty Images

Getty Images

Getty Images

Getty Images

Getty Images

Getty

Getty