A district councillor — and former stunt double for Arnold Schwarzenegger — kept an election promise by setting himself on fire.
Peter Kent had committed to the fiery stunt if residents in Squamish, B.C. beat the 34.2 per cent turnout from 2011. They did, with 47.1 per cent of eligible voters casting ballots in the November 2014 election.
So Kent, who worked on "Total Recall," "Predator," and 12 other Schwarzenegger films, made good on the pledge Friday night at the Loggers Sports Grounds, while the mayor played the ukelele.
He warned the 300-strong crowd not to try something like this themselves, then used fire gels to set himself ablaze, reported CTV News. Kent walked a short distance before his professional assistants extinguished the flames.
Kent, who was born and raised in North Vancouver, worked with Schwarzenegger for 15 years in Los Angeles before moving back to B.C.
Squamish, with a population of about 17,000 people, is located halfway between Vancouver and Whistler.
Kent, 57, operates the "only stunt training academy in Canada" called "Peter Kent's School of Hard Knocks."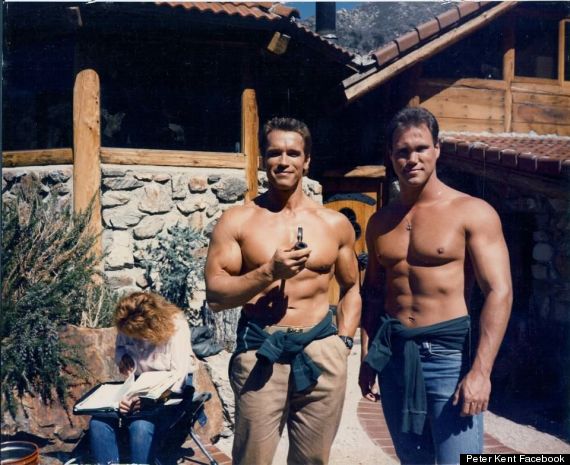 Peter Kent, right, was Arnold Schwarzenegger's stunt double for 15 years.
Like Us On Facebook

Follow Us On Twitter
Also on HuffPost